Five years after her son-in-law allegedly attempted to kill her, a Trinidad-based Guyanese woman has managed to track the man to Guyana, from where she is hoping he will be extradited to stand trial.
Lileth Quamina, 67, told Stabroek News from her home at Patna Village, Diego, Trinidad that a random search online led her to learn of the whereabouts of Dwayne Estwick, whom she has accused of inflicting a beating on her that resulted in the loss of several teeth, damage to her lip and face and hospitalisation.
Estwick, who is married to Quamina's daughter, was shot during a carjacking in February.
According to a report carried by Stabroek News on February 7, 2014, Estwick, then 41, of Lot 1 Meadowbank, East Bank Demerara, was attacked and shot in the buttocks by two men posing as passengers, who later fled with his car.
When contacted, Crime Chief Leslie James said that the Trinidadian police have not yet made contact with him. He said that extradition will be on the cards once it is established that Estwick is indeed wanted in Trinidad.
Stabroek News was able to make contact with Estwick, who admitted that Quamina is his mother-in-law but he said that he was unaware that he was wanted in Trinidad for attempting to kill her.
"I don't know anything about that," he said, after explaining that he left the island for another country and has not gone back there since or made contact with his wife, with whom he shared a child. He continued to repeat that he is unaware of any allegation of attempted murder against him.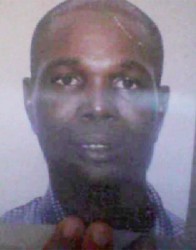 "I went to another country and went on with my life," he said.
Asked whether he and his mother-in-law had any issues, the man responded in the negative.
He asked this newspaper to help him contact the woman.
During a number of email exchanges, Quamina provided Stabroek News with a copy of the police-issued wanted list, which was published in a May, 2010 edition of the Trinidad Guardian newspaper. While it was not stated what Estwick was wanted for, it said that he was among persons who "had information that is key to the current drive to reduce crime in our country."
Quamina also provided a photograph of the man and the certificate of his marriage to her daughter.
The woman, who is a native of Berbice, explained that she began living in Trinidad 38 years ago. She said that her daughter met Estwick there and they got married.
Quamina still bears the scars of the horrific attack on her on the night of September 23, 2009. She said that the man confronted her in her house after breaking in through a bedroom window. She came face to face with him, she recounted, as he was coming from a corridor leading from the bedroom.
She alleges that the man, who was wearing gloves "started to cuff me down… he squeeze me so much that I give out." She said that she eventually blacked out and after she went limp, "he loose me and reached into de cupboard to get a knife… I think he was going to slit my throat." She said that at that moment she regained consciousness and attempted to run out of the house. "He scramble me and beat me on all the concrete," she said, recalling how she hollered. As a result, she said he pushed his hand down her throat. He then reached for a knife, which was in his back pocket, but it fell.
She said that during the entire episode she was hollering. As a neighbour came to her rescue, she said, Estwick pulled off the bloody gloves and fled. An ambulance took the battered Quamina to the hospital and based on what the police were able to gather a friend picked up Estwick and dropped him off at another friend.
A subsequent check of the immigration records at the Piarco International Airport revealed that he did not leave the country by airplane. Quamina said that given the fact that he is in Guyana it means that he would have journeyed here by boat.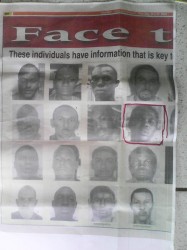 Quamina explained that Estwick was very dear and close to her and she would have never expected him to attack. However, she became suspicious of him after money belonging to her husband went missing from her home. She said that she became suspicious of him because he was the only strange person who would visit her house.
As a result of her suspicions, she said, "we kept an eye on him" and she thought that he attacked her after realising that she suspected him.
According to Quamina, it was a relative who discovered Estwick's misfortune in Guyana during a random internet search and immediately contacted her. She said that when she discovered where he was, she was shocked. She added that this information has since been passed on to the police in Trinidad.
"What goes around comes around. He want justice? Well, I want justice too!" she said while stressing that Estwick had caused her extensive injuries.
"I spent thousands of dollars. All my face cut up. All my mouth split in half… is patch they had to patch up my mouth," Quamina said angrily. "He crying out for justice! Well, I crying out for justice!" she said again.
Comments

Several hundred more sugar workers are expected to be laid off from the Skeldon, Rose Hall, and East Demerara estates by next month and the Guyana Agricultural and General Workers Union (GAWU) yesterday urged that the decision be reviewed.

The commencement order establishing the Telecommunications Agency was signed last Friday, in anticipation of the liberalisation of the telecoms sector, Minister of Public Tele-communications Cathy Hughes announced yesterday.

Nickela Craig-Singh, the woman who was arrested last Friday after the Customs Anti-Narcotic Unit (CANU) found over 10 pounds of cocaine in the ceiling of her Soesdyke home, was yesterday sentenced to four years in prison and fined over $14 million after pleading guilty to possession of the drug.

Almost two weeks after he made a Facebook post in which he questioned whether the Indian High Commission was interfering in Guyana's internal affairs, Director of Public Information Imran Khan yesterday said that he regretted the "furore" his post created and admitted that it should have benefitted from "greater elegance or not have been made." After public reprimand and criticisms coming from even within the government, Khan, who initially staunchly maintained that he voiced his concerns in his private capacity as a citizen, said in a recent post on the issue that he now appreciates how persons may have interpreted his views as being some way reflective of the office he holds.
A young man seen in a recent viral video being brutally murdered in neighbouring Venezuela has been identified as a Port Kaituma miner.