A Corentyne businessman is now dead and his wife hospitalized following a brazen daytime robbery yesterday and two persons are in police custody assisting with investigations.
According to reports, Ashok Raghoo, 43, was shot by bandits on a CG motorcycle around 1 PM while waiting for a traffic light to change. His wife, Shayraz Raghoo, 49, had been in the passenger side of the vehicle PGG 8291.
According to eyewitnesses, the car had been heading south along Vlissengen Road when it stopped at the traffic light in front of the Botanical Gardens. There, two men on a CG bike rolled up on the driver's side of the vehicle and one of the men fired a shot inside.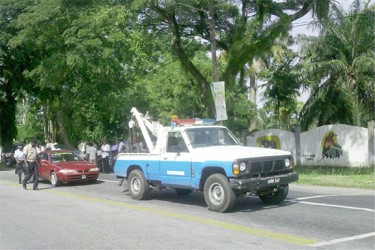 It appeared that the businessman had put up a fight because two more shots soon followed the first, eyewitnesses added. The man was fatally shot to the chest while his wife sustained a wound to her right thigh. They were both taken to the Georgetown Public Hospital (GPH) by civilians where Ashok was pronounced dead on arrival.
"We hear the shots and then we hear the woman screaming; is that alerted us. We ran out but by that time the guys were already gone," one eyewitness told Stabroek News. The bandits reportedly escaped North on Vlissengen Road.
At the GPH, a daughter told reporters that her parents had been on their way to pay employees and bills when the incident occurred. She further said that her father owned a business in the interior and would normally come into Georgetown to conduct business. The woman was unable to ascertain just how much cash her parents had in their possessions. According to the police, the perpetrators also escaped with a licensed firearm and ammunition.
When contacted, Crime Chief Leslie James confirmed that two persons had been picked up hours after the robbery and were in police custody undergoing questioning.
Up to press time, Shayraz Raghoo was still a patient of the GPH.
Comments

A jet plane flies by the total solar eclipse in Guernsey, Wyoming U.S.

Superstar opener Chris Gayle … returns to the West Indies side for the first time in over two years.

The Church Street hotel and casino Hotelier Clifton Bacchus today filed a $2 billion lawsuit against the state-owned Guyana Chronicle newspaper following its publication of two recent articles which he has described as "highly defamatory." Guyana National Newspapers Limited, which is the publisher of the Guyana Chronicle, and the editor of the Guyana Chronicle were listed as the defendants in the suit, which was filed by a team of lawyers headed by former Attorney-General Anil Nandlall.

LONDON, (Reuters) – The gradual decline of West Indian cricket is hardly a new phenomenon but the latest capitulation of a once-dominant test match power has brought genuine expressions of sadness throughout the sport.

Eleven residents of the juvenile correctional centre at Onderneeming on the Essequibo Coast were apprehended between yesterday and this morning.