The Guyana Forestry Commission (GFC) yesterday defended its stewardship of the forestry sector but despite saying that two years was reasonable time in which wood processing should start, it acknowledged that several operators were way behind and Jaling and another have been warned.
The GFC has come under severe criticism in recent weeks over the operations of logging firms Bai Shan Lin and Vaitarna Holdings Private Inc (VHPI) but it yesterday said that only "minor infractions" were recorded against the two companies.
"We have absolutely nothing to hide," GFC commissioner James Singh told a news conference at the GFC head office yesterday which came after days of media reports focused on the logging operations of the two firms and their failure to fulfill commitments to undertake value-added processing in Guyana as well as controversy over wood products exports claims made by Minister of Finance Dr. Ashni Singh.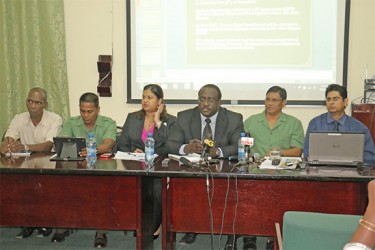 "Both companies have had infractions but mainly procedural infractions not anything very significant, damage to the environment or anything like that," Singh said in response to a question from Stabroek News. He recalled that when Bai Shan Lin first came to Guyana, their operations were suspended for about two years as a results of reports made and the GFC did a thorough investigation and only when the agency was satisfied that everything was above board, were operations resumed.
"Vaitarna has committed some minor infractions nothing environmental or anything of that sort, maybe procedural, it may be something log tagging was not properly put on the stump or something like that but it's certainly not anything of a nature that would cause serious concern and certainly not anything that would compromise the sustainability of the forest resources," Singh further said.
He agreed to provide a list of infractions and penalties applied for the two companies. The forests commissioner said that he believes that the two companies will live up to their promises even as he said that Bai Shan Lin is preparing the foundation for its factory at Conception, Region 10 and had started work at its proposed industrial park near the Providence stadium. Vaitarna, he noted, has said that it has procured equipment for a saw mill.
Questioned about the failure of Vaitarna to set up a wood processing facility four years after it commenced operations here on the commitment that there would be no large-scale export of logs, Singh pointed to a statement by the company in which it said that it was looking to be near completion of the facility by year end. "A company coming into Guyana and going into the forest harvesting cannot be expected to start to produce large-scale sawmill…and so on," Singh said. He asserted that the company has to do an inventory, an annual operations plan as well as a forest management plan before starting operations.
Only then will they know the volume of species and the type of species that are there and they have to bring in sawmills which are appropriate to cut those species "so the notion that they will come and go to a concession and immediately bring in a sawmill, you have to dispel that notion," he said. The commissioner said that one of the reasons the Caribbean Resources Limited (CRL) concession in Essequibo was taken away and re-allocated to Vaitarna was that CRL had not done the required studies and plans.
He said that when Vaitarna came in, the Indian company essentially had to start from scratch and began exporting logs from January 2012. He could not immediately give a figure for the log exports since then and said this would be provided to Stabroek News today. A reasonable timeframe for starting value-added processing would depend on the concession size, the type of species present, the species mix, among other things but a reasonable time would be "maybe two years," Singh said.
Observers pointed out that both Vaitarna and the government had given earlier deadlines for the processing plant but that these were not met.
Left to rot
As it relates to logs that were left to rot at Vaitarna's Wineperu log yard seen during a visit by Stabroek News to the location last week, Singh said that the logs were cut in CRL's time and were "old logs, very old logs." But when Stabroek News pointed out that a Vaitarna official said that the logs were there for a year, Deputy Commissioner of Forests Tashreef Khan interjected that the company has said that no one wants to buy the logs anymore.
Khan said that the company may have had an intention of producing to satisfy a particular market but if by chance that market was no longer available, the company had to find other markets. He said that the company would have paid royalty for those logs at the location and is given a window period – though he stressed that there is no deadline on any company – to utilize the logs. He said that there are two resident forest officers at Wineperu who "check every day" all the logs coming in and going out from the location and when they recognize that the logs have started to deteriorate, they would call on the company and ask their plan for the utilization of the logs and they will continue to monitor.
Video:
The deputy commissioner said that for some of the logs at the location, the company expressed to the GFC that on the completion of the saw mill, because of the state of the logs it will only be profitable for them to be processed right there because no one wants to buy those logs anymore. This action is in the pipeline Khan said even as he stressed that the logs are legally sourced and the GFC has received royalties for these logs.
Khan said that Vaitarna is not harvesting the full quota under the Annual Allowable Cut and has sold a lot of logs locally, particularly to saw mills in the Parika area. About 40% of what the company produces is sold to saw mills in that area, he said.
The export figures for both Bai Shan Lin and Vaitarna were requested but Singh said that they did not have those figures available but committed to providing them today.
 Jaling
Meantime, Singh said that there are concerns about other concessions and indicated the intention of the GFC to go after other companies if they do not live up to their promises. It was noted that another logging company, Jaling Forest Industries Inc has been operating in Guyana for over a decade with no move to do value-added processing. He said that Jaling and Garner Forest Industries Inc are owned by China Resources Limited and the GFC is concerned about the state of operations of these two companies.
"The Guyana Forestry Commission is very concerned about the operations of these two companies," Singh asserted after earlier noting that in all fairness to Jaling, the company has an abundance of peeler species and logging company Barama was not buying peeler species for quite some time because of the market price among other factors.
Singh noted that Jaling and Garner have been here for quite some time and disclosed that only about two months ago, he called in the principals of those companies and told them that unless they see positive movement this year, the GFC will be making a recommendation to the GFC's Board of Directors for repossession of both Timber Sales Agreements (TSAs).
When it was pointed out that he said that a reasonable time for a company to get involve in value-added processing was about two years and Jaling and Garner were here for over a decade, Singh responded that it has to be realized that many local companies have not been performing as well and the majority are performing at about "20% and below" that percentage.
"I don't think it's the intention of the government to go on a witch campaign to repossess all the TSAs in the country…that will not be something sensible to do," he asserted.
The forests head said that the last Board of Directors of the GFC met with all the companies and asked them to give a presentation of their plans for the short and medium term "and we are holding companies to that now" and if they do not perform "then we are certainly going to throw the book at them." He said that not only the Board, but the GFC as well as the Minister of Natural Resources have expressed their concerns to the companies and "we can only hope that things will get better and that they will move into value-added operations as well."
He acknowledged that "some companies are speculating, hoping for joint ventures, hoping to sell the company out and so on then we have to take even more drastic action."
Meantime, GFC Head of Planning and Develop-ment Division, Pradeepa Bholanauth defended the safeguards that the agency has in place to guard against illegalities. She said that the GFC is subjected to three audits yearly and these reports are made public. Khan added that forest rangers are rotated every six months or every year while teams from the head office as well as auditors visit locations periodically to verify and re-examine the work done.
In relation to the latest report on Independent Forest Monitoring which highlighted that several State Forest Permission (SFP) holders had exceeded their quota without having all of the excess volume deducted from the quota for the following year, Singh said that there are 507 SFPs so from time to time, "you would see something."
However, he said that if three SFPs exceed their quota out of 507, "I don't think the GFC can be branded as opening the floodgates and allowing things to happen." He said that he was also pretty sure that there was justification.
Bholanauth asserted that their safeguards are robust and companies have never exceeded more than 10% of the quota. She said that the GFC's system allows them to "know the production level of every single concession" and only a minority exceed their quota and they have been able to monitor them. She said that in relation to other issues raised such as log tracking, due to the process of reconciliation, sometimes the data for the previous month would not have been entered as yet when the assessment was made as they had to give allowance for data processing time. She said that the GFC is putting systems in place to allow for more real time recording while acknowledging that there is room for improved.
As it relates to exports, Singh said the procedures are robust. "Every single log that is exported has to be verified…the logs are first graded by the company's grader then the GFC verifies that the grade and the species is correct and only then it is exported," he said. He noted that the only restriction is on crabwood and locust but they can be exported once the proper procedure is followed. This includes having to advertise through the FPA, the FPDMC as well as a "very prominent" ad in the print media for a week, he said.
As it relates to staffing levels, Singh said that they may not be fully adequate but are sufficient. "For the purposes of ensuring legality, ensuring that persons comply and so on, the system is working, it's functioning," he said. He said that the GFC employs 220 forest rangers and each large concession has at least one resident forest officer. They are doing an adequate job of monitoring the forest and the GFC probably needs around 20 more for the full complement, he said. In terms of persons fired in the past, he acknowledged that the agency has fired persons "for not fulfilling their obligations properly" but it would not be more than 5% of them.
As it relates to Bai Shan Lin's joint venture concession at Kwebanna, Singh confirmed that Ram Alli also known as Ramzan Roshan Alli, Guyana's Consul-General in Florida, is one of the partners.
He said that Yacoob Alli, the holder of the TSA had initially approached the GFC and said that because of the need for equipment and financing to carry out the operation, he wanted to engage a joint venture partner and identified the partner as Ram Alli. Singh said that he did not think that Ram Alli was the Consul-General at that time. He said that Ram Alli had furniture outlet overseas and the JV was approved by the GFC Board.
The commissioner said that after the financial crisis, Ram Alli approached the GFC and said that he was not getting any markets and not getting financing so he was no longer interested in the scale of operation as he was before. However, he still wanted to be part of the JV as he waited for the market to improve. The partners proposed a JV with Bai Shan Lin and this was approved this year, Singh said.
Comments

The legal team for former New Building Society (NBS) manager, Maurice Arjoon, who was wrongfully dismissed, have levied on the bank's assets in a bid to recoup the $59,033,000 pension owed to him by the financial institution.
An alleged inebriated farmer of 54 Strath Campbell Village, Mahaicony, ECD, died at about 3 pm  yesterday at Chance Village, Mahaicony, after a vehicle he was reportedly not given permission to drive, crashed into a utility pole.

MELBOURNE,  (Reuters) – Rafa Nadal's Australian Open quarter-final curse struck again on Tuesday, an injury forcing the top seed to retire in the fifth set against Croatia's Marin Cilic.

Several hundred more sugar workers are expected to be laid off from the Skeldon, Rose Hall, and East Demerara estates by next month and the Guyana Agricultural and General Workers Union (GAWU) yesterday urged that the decision be reviewed.

The commencement order establishing the Telecommunications Agency was signed last Friday, in anticipation of the liberalisation of the telecoms sector, Minister of Public Tele-communications Cathy Hughes announced yesterday.