The lifeless body of an elderly Brazilian national was pulled from a river at Dukwari, Cuyuni while a five-year-old boy is missing and presumed dead by officials following a boating accident in the said area around 14:00hrs on Tuesday.
Police have identified the man as 66-year-old Jose Jenrique Salvao De Souza of Junior Ross Landing, Cuyuni. The boy, whose relatives say he resided in Venezuela with his sister, father and mother, has been identified as Bisham Munilall Jr.
According to a police report, the two were among several persons thrown overboard when the boat they travelling in hit a rock. They were the only ones who were not found right away. Yesterday, the boy's grandmother, who lives in Charlotte Street, said she heard about the accident on Tuesday night.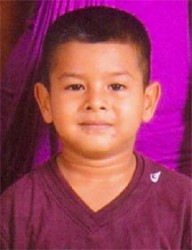 "Me nah know nothing…last night me barely get a phone call from a friend…they said aunty me want deliver a message but me nah know how fuh deliver this message, and me tell he man tell me…and then he tell me that they were going down a river and the boat hit a rock and all body find back but the boy."
"Me tell him stop, stop right deh, tell me tomorrow if he find nah tell me bout he missing, and me start shake right here." The woman said she eventually spoke with the child's father, with whom he was travelling. His mother is also said to have been on the boat. Bisham Munilall Sr, she explained, was only able to tell her that his son was still missing. After conveying that message, she continued, he never uttered another word. With increased traffic in gold mining areas there has been an increasing number of fatal river accidents.
Comments

Wijeyadasa Rajapakshe   COLOMBO, (Reuters) – Sri Lankan President Maithripala Sirisena today sacked the justice minister over his criticism of a $1.1 billion deal, signed last month, to lease a port to a Chinese company, the cabinet spokesman said.

NEW YORK,  (Reuters) – Two Harvard University researchers said in a study published today they had collected scientific data proving Exxon Mobil Corp made "explicit factual misrepresentations" in newspaper ads it purchased to convey its views on the oil industry and climate science.

In the wake of rising bad loans and a massive alleged fraud against it this year, the Guyana Bank for Trade and Industry (GBTI) has posted an unaudited net after tax profit of $603m for the first six months of this year compared to $961m in the same period for 2016.

Vamanadev Hiralall, of the privately-run Saraswati Vidya Niketan (SVN), is the country's top performer at this year's Caribbean Advanced Proficiency Examinations (CAPE) after achieving an accumulated 13 grade one and 3 grade two passes.

Twenty-six students in the top one percent of the 12,684 who sat this year's Caribbean Secondary Education Certification (CSEC) examinations earned 12 or more Grade I passes, with half of them, including the top performer, coming from Queen's College (QC).