After struggling with poor vision for almost half of his life, 20-year-old Intiaz Abdul received a corneal transplant last month at Dr Balwant Singh's Hospital.
"I spent half of my life—since I was 12-years-old—trying to see clear," Abdul says, while noting that he had started failing in school because he couldn't see properly and couldn't concentrate. "I could have only see like four feet away. It was really hard."
Abdul said his mother carried him to a lot of eye specialists but no one was able to treat his condition—keratoconus, a condition where the normally round dome-shaped cornea progressively thins into a cone-like bulge and eventually ends in severe visual impairment. Persons would need a corneal transplant if their cornea no longer lets light enter the eye properly because of scarring or disease. During the procedure, called a keratoplasty, a portion of the cornea is removed and replaced with a new section of cornea from a tissue donor.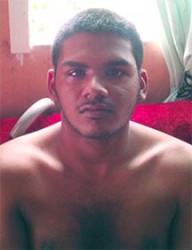 Through his mother's persistence, Abdul was able to have a new cornea grafted onto his right eye on July 26.
A cornea transplant for keratoconus disorder can be avoided if people are diagnosed early for the condition, says Ophthal-mologist Dr. Neeraj Jain, of Dr Balwant Singh's Hospital, who also believes that the development of a local eye bank is essential to support surgical interventions when they are necessary.
Dr. Jain told Stabroek News that Guyana has a lot of people who were suffering from the disorder and are roaming around in search of treatment. He points out that half of the people who underwent a corneal transplant at the hospital recently were diagnosed with advanced keratoconus.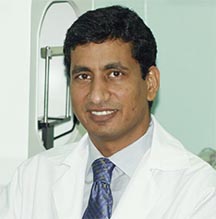 However, he says the need for the surgical transplant could be avoided if people would allow themselves to be tested earlier for keratoconus. "These patients will never go into a cornea transplant if they are diagnosed early and treated early," he adds.
He says that the prevalence of the disorder is predominantly genetic. "We have seen families with keratoconus over here…. where the brothers, sisters and parents all come to see the doctor," he notes.
Once patients were diagnosed with the condition, he explains, they could undergo a corneal collagen cross linkage procedure— a technique which uses Ultraviolet light and a photosensitiser to strengthen chemical bonds in the cornea. It is expected to halt the progressive change in the shape of the cornea. Dr Balwant Singh's Hospital has been administering the procedure for over a year now and has since been able to treat at least 20 patients.
 Surgeries
More recently, six keratoplasties were done at the hospital for the first time by Dr. Jain and a seven-person medical team. It is the second time such transplants have been performed in Guyana.
Among those operated on were five males, including Abdul, and a female. All the patients were waiting to go overseas for the same surgery since it was not available locally. The patients ages range from 20 to 72 and half of them were diagnosed with keratoconus. The other three were diagnosed with PBK, cataract with bullous keratopathy and leucomatous corneal opacity.
Preparation for the surgeries were ongoing for six months. The corneas were obtained from three eye banks in the United States and transported to Guyana by Dr. Stephen Waller, who is presently lobbying for Guyana's to develop its own eye bank. "All the surgeries were uneventful and all the patients are recovering satisfactorily, so far," Dr Jain says, while adding that according to their eye bank register, 22 more patients were waiting for surgery.
Abdul says that his mother was determined for him to undergo the procedure. When he visited the Georgetown Public Hospital, it was recommended that he travel to Trinidad and Tobago for a Bilateral Keratoplasty surgery—which would have cost his family $1.5M per eye. His mother had instructed a family member working at Dr Balwant Singh's Hospital to tell her whenever an eye specialist came into the country so that he could get a second opinion.
Abdul says he was still doubtful because he had visited the hospital before and was told by Dr. Jain that he could not do the operation because no donor tissue was available.
Four years later—last month—when Abdul revisited the hospital after hearing that a specialist was in the country, he saw Dr. Jain. "When he saw me that day, he recognised me and he said that we could do it now because we have cornea tissue," Abdul says.
When the procedure was done at the hospital last month it cost him $600,000. The other surgery for the left eye is scheduled to be carried out in six months' time. According to Abdul, his vision in his right eye has improved tremendously and Dr. Jain has told him that it would heal completely within a year. "I'm glad we didn't have to spend all that money to fix my eye because we didn't know anyone in Trinidad to stay by when we would have reached there. And they wanted us to stay for a month," he says.
Eye bank
He now is also an advocate for legislation that would allow people to donate their eyes upon their death so that more people like him would be able to see. "An eye bank would really help people. I think they should develop one here," he says.
Dr. Jain also voices the need for the creation of an eye bank in Guyana. He said from the eye bank register at Dr Balwant Singh's Hospital, it is clear that a lot of patients were in need of a new cornea. "Plus the Georgetown Public Hospital may have a much bigger number," he adds, while noting that there is significant demand.
He says Dr Balwant Singh's Hospital, however, will not sit and wait for another party to develop the bank and is willing to set one up itself. "The plan is already there. We are getting paperwork in order," he adds.
However, the biggest hurdle is that there is no proper legislation in place which could help hospitals to retrieve the eyes from donors. "If the country has a proper organ donation policy, it would become very easy for people to donate and this country can become very much self-sustained," he explains.
According to Dr Jain, considering the population versus the demand for donation, a constant donation within the next six months could meet the requirement for all persons in need of the surgery. "We can even meet the need of Caribbean countries," he suggests.
He says if Guyana continues to depend on overseas sources for the tissue donation, then it would remain a "no priority" for the other country. "These overseas sources will have first priority for their own country. Also, if you do the surgery in Guyana it is much cheaper than doing it in Trinidad," he adds.
He further says that an awareness needs to be created among Guyanese about cornea donation. "I am making an appeal. Please donate your eyes," he said.
Meanwhile, Dr George Norton, who heads of the Georgetown Public Hospi-tal Eye Clinic, also voiced his support for the establishment of an eye bank. He said there were enough cases of persons needing a transplant "that warrant the need for the establishment of an eye bank."
He stated that the fact that Guyana does not have such a deposit creates a major problem where it is "making cornea transplant look as though it is rocket science when it's not." He said it would not take any large infrastructure to develop the bank.
According to Dr Norton, a campaign needed to be set up to urge people to donate their bodies toward the improvement of science. "But also the bill needs to be passed in Parliament," he added.
Presently, he said, the clinic is treating an average of 300 patients every month and the numbers are rapidly increasing.
Norton was the first Ophthalmologist to perform a cornea transplant in Guyana. The procedure was done four years ago. "And those patients have a much more improved vision. As I recall, one of the men was a cane cutter and he is now back working in the fields," he stated.
Comments

Clifton Bacchus demonstrating how one of the slot machines work. (SN file photo) Anil Nandlall, attorney for Clifton Bacchus today accused the state-owned Guyana Chronicle of libeling the hotelier and damaging his business in a news report that appeared in its edition today.

Joe Root hit his 13th centuryfeatured   BIRMINGHAM, England, (Reuters) – England's Joe Root and Alastair Cook crafted superb centuries to lead the hosts to a commanding 348 for three on the opening day of their first day-night test against West Indies today.

A police officer helps evacuate people after a van crashed into pedestrians near the Las Ramblas avenue in central Barcelona, Spain August 17, 2017.
A post-mortem examination is expected to be performed on the body of housewife Janice Edwards, 38, of 121 'C' Field, Sophia, ECD, to determine the cause of her death.

A sketch of the proposed Curepe Interchange (Trinidad Guardian) China Railway Construction Corporation (CRCC) has been awarded a $221.7 million contract by the National infrastructure Development Company (Nidco) to build the controversial Curepe Interchange, the state company's chairman Herbert George has confirmed.