China hands over military aid to army
The People's Liberation Army (PLA) of China yesterday presented equipment valued 5M RMB (over US$819,000) to the Guyana Defence Force (GDF).
Chinese Ambassador to Guyana, Zhang Limin presented the keys to some of the equipment, which includes an excavator, an ambulance, front-end loaders and inflatable boats with engine, to President Donald Ramotar at a brief ceremony held yesterday morning at Base Camp Ayanganna. The president then handed over the equipment to GDF Chief of Staff Brigadier Mark Phillips. Minister of Foreign Affairs Carolyn Rodrigues-Birkett also attended the event.
A Government Information Agency (GINA) report said the presentation was made following Tuesday's signing of a military aid agreement totalling 30M RMB (approximately US$4.8M) between the two militaries as China's 2014 assistance.  In his address, the president said Guyana values its relationship with the People's Republic of China and appreciates the great contribution that it continues to make here and in other countries of the world. "The contribution that we have received here today, from the People's Liberation Army is indeed very vital in assisting the GDF to build its infrastructure, and facilitate its work in a more effective and efficient way," he said.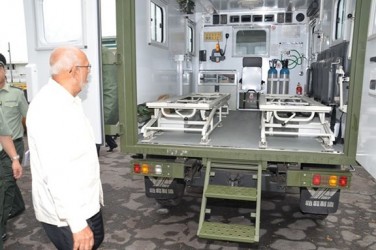 According to Ramotar, the equipment will greatly assist the army's defence programme and in maintaining communications and responding to emergencies over the far-flung areas of Guyana's vast and varied terrain and river network.
The president further lauded China's contribution to regional and international development over the years, pointing out that its support has also increased greatly over time. China has become one of the main drivers in the international economy, he said. "Their friendly relations and investments in many parts of the world have helped greatly during the time of the financial and economic crises to keep the world economy going."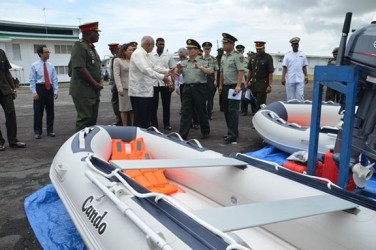 The support provided to the GDF yesterday represents China's 2011 military assistance to Guyana. The army Chief of Staff said that 2012 assistance of 10M RMB is in process.
In response, Major General Li explained that as a demonstration of the importance the PLA attaches to the China-Guyana military relationship, the Chinese military has decided to increase its military aid to Guyana for this year to 30M RMB.
Meanwhile, the ambassador said that the two countries' bilateral military cooperation is an important part of their bilateral collaboration and despite international challenges over the years, this bilateral military relationship has continued uninterrupted. The ambassador further noted that the signing of the 2014 agreement on Tuesday, and the presentation of the equipment yesterday represents a new start in this military cooperation.
Most Read This Week