(Jamaica Observer) Fly Jamaica aims to service a major South American city with the acquisition of its new aircraft.
The route expansion will allow the airline to maintain a higher passenger count without having to hunt to fill seats servicing competitive US cities, according to Paul Ronald Reece.
The airline's CEO said that the move would attract Latin tourists travelling into Montego Bay.
"There are millions in that city who want to travel," he said while officially declining to release the name of the South American city for competitive concerns.
Negotiations are still underway, but the company already flew to that city and held discussions with the Inter-American Devel-opment Bank (IDB), regulators and tour operators which service that territory.
"They want us to come there… you go where you can fill the seats," he reasoned.
The Boeing 767 aeroplane should start flying this year and will add to the Boeing 757 which the airline now utilises. The airline ultimately wants two 757s and two 767s.
Fly Jamaica currently provides scheduled service to the North American cities of New York and Toronto as well as to Guyana and Jamaica.
In July, passengers experienced delays with the untimely maintenance of the aircraft. He told the Observer that the second plane would also serve as redundancy in the event of maintenance delays.
"So you have two aeroplanes. One on a hard schedule, the other on a soft schedule to back up the first one," he said of the Boeing 767 which seats 246 passengers.
Reece indicated that the airline operates an average passenger load factor of 70 per cent.
"So we have been surviving," he stated.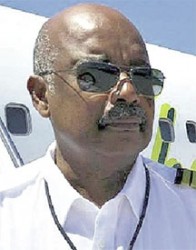 US transport data indicates that the major regional carrier Caribbean Airlines operated on a roughly 77 per cent load factor on some routes earlier this year. It added that US airlines operating into Jamaica operated on a 83 per cent load factor on average.
Reece stated that the airline will take roughly three to five years to turn a profit based on capital costs, including the purchase of aircraft.
He, however, declined to reveal the capital spent to date due to the private ownership of the company.
Fly Jamaica began offering international flights effective January 2013, following the partnership between Reece, a Guyanese by birth, and Jamaican shareholders, including Lloyd Tai.
The 767 aircraft was purchased from the International Lease Financing Corporation (ILFC) by Wings Aviation, a US-based company controlled by Reece which in turn leased the aircraft to Fly Jamaica.
The initial 757 aircraft was also leased to Fly Jamaica from Wings Aviation. The ultimate ownership of both aircrafts will allow Fly Jamaica to collateralise these assets for financing.
"It is always better for an airline that's just starting out to buy one or two planes," he said, indicating that you can get equity for it. "And they can lease additional aeroplanes when they have excess capacity and when they don't have it anymore they can just hand it back in.
"But if you developing a company, it is better to buy the aeroplane and therefore you own the airline and you're not burdened by lease payments every month."
The 767 was previously operated by Air New Zealand, Lot Poland and North American Airlines.
"North American went bankrupt and they handed this plane back to the leasing company. We bought it from the leasing company," Reece explained.
The purchase of the airplanes indicates that Fly Jamaica aims to remain within the island for the long haul. It currently staffs some "240 Jamaican workers".
Comments

A sketch of the proposed Curepe Interchange (Trinidad Guardian) China Railway Construction Corporation (CRCC) has been awarded a $221.7 million contract by the National infrastructure Development Company (Nidco) to build the controversial Curepe Interchange, the state company's chairman Herbert George has confirmed.

Legal Advisor to the Police, retired Justice of Appeal, Claudette Singh yesterday testified that there was insufficient evidence in the allegation made by Andriff Gillard of an alleged plot to assassinate President David Granger.

Today at 2 pm the 30 councillors of the Georgetown City Council will once again cast a vote on the future of metered parking in the city and several of them have told Stabroek News that they want to be sure their vote accurately represents a mandate from residents.

Crime Chief Wendell Blanhum yesterday made a written request to be recalled before the Commission of Inquiry (CoI) investigating the allegation of a plot to kill the President of Guyana to defend himself against "appalling" statements made by Assistant Commissioner of Police David Ramnarine.

Two men were yesterday remanded to prison by a city magistrate after they were charged with the fatal stabbing of Rawle Rodrigues which occurred in January.