Chief Medical Officer, Dr. Shamdeo Persaud says that Guyana has recorded a total of 76 cases of the mosquito-borne chikungunya disease from approximately 250 samples sent to the Caribbean Public Health Agency (CARPHA) in Trinidad and Tobago.
According to the Government Information Agency, the CMO said that based on reports coming from health facilities across the country, there are 580 suspected cases. However, there may be milder forms of the disease in some areas. Some of the samples sent to CARPHA are still to be tested, GINA said.
While chikungunya has been more pronounced in Regions Six and Five and to some extent Four, there have been three reported cases in Region 10, associated with travelling, not active transmission, GINA said.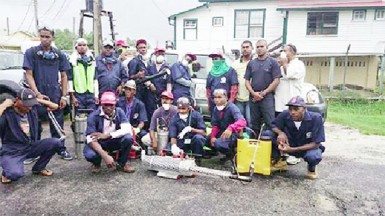 The CMO told GINA that even though fogging and more general environmental controls are necessary, a lot more precautionary measures can be taken.
"We feel that a lot can be done at the household level…from the inspections carried out, we have noted that there are several common breeding grounds around the homes where even fogging would not impact effectively," he said.
GINA said that vector control personnel in Georgetown have been going around in communities where chikungunya and dengue have been identified to conduct yard inspections and distributing 'abate'. This larvicide is placed in water to prevent the growth of larvae and ultimately the multiplication of mosquitoes.
At present, GINA said that fogging is ongoing in parts of Regions Six, Five and Four. These exercises are still to commence in Regions Three and Ten as a result of a number of factors including the weather and availability of personnel.
Dr. Persaud explained that the same vector control unit that is in charge of the fogging exercise is also tasked with the management of malaria.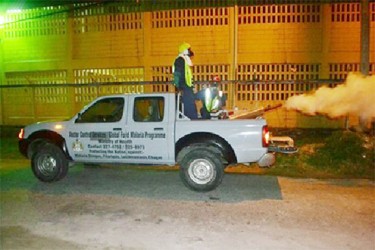 The CMO noted that while fogging has been deemed helpful, it comes with environmental and other health-risk consequences.
"Our programme usually recommends two cycles of fogging annually per populated areas like Georgetown and the East Bank. Too much of fogging could lead to additional risk due to chemical exposure…it is an intermittent intervention to help to reduce the mosquitoes, but more measures should be taken in the home," the CMO said.
"Once you have contracted it, you have life-long protection against; it is one of those viral diseases that you develop immunity against," the CMO said.
At present, there are no specific antibiotic or antiviral medicines that can be used to treat chikungunya. Its symptoms are treated.
A suspected chikungunya case is identified where a person has a temperature of over 38.5 degrees Celsius and is also experiencing severe arthritis (joint pains).
Comments

Farha Faiz, a lawyer, speaks with the media after a verdict for the controversial Muslim quick divorce law outside the Supreme Court in New Delhi, India August 22, 2017.  

Defeat Tallawahs by 37 runs Chris Gayle, playing in his 50th CPL match, produced his 63rd T20 fifty as St Kitts & Nevis Patriots cruised past Jamaica Tallawahs by 37 runs to guarantee a place in the playoffs for the first time in their three-year history.

The Guyana Football Federation (GFF) has officially selected the Boys and Girls teams which will represent the nation at the Inter-Guiana Games (IGG) Goodwill Series scheduled for Suriname from the August 25th– 27th.

The Commission of Inquiry (CoI) into African ancestral land ownership began hearings yesterday with a significant portion of the first day's proceedings being dedicated to questions pertaining to the allocation of lots in the controversial 'Pradoville 2' Housing Scheme.