The man held by police in connection with the murder of Pradika Persaud, who is believed to have been strangled last Friday last, can be cleared by witnesses, a relative says.
Persaud, 26, also known as 'Simona,' of Lot 532 Zeelugt, East bank Essequibo, was found dead on the Boerasirie roadway. A post-mortem examination later found that she was strangled.
'D' Division Commander Senior Superintendent Ian Amsterdam said that the 43-year-old man remains in custody for questioning, since he was seen picking up Persaud on the night she was killed. He further mentioned that any witness that can help clear the man can offer their information to the police. Until then, however, Amsterdam said that the suspect remains in custody to assist with investigations.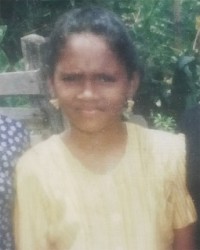 Farida Daniels, the mother of the man, maintains that her son was at their neighbour's home playing cards when the murder occurred. She admitted that her son had been in the company of Persaud at a village rum shop but says that he left Persaud arguing with two other men. Additionally, the elderly woman said that she is worried that her son, who is the single parent of three minor children and is also the sole bread winner of his home, may be wrongfully charged.
When asked whether witnesses went to the police to clear the man, Daniels said no. She reasoned that they were afraid.
Amsterdam also informed this publication that the police have been able to get more leads and is hopeful that the perpetrator will be brought to justice.
Comments

A section of the Kitty Public Road is to be closed from Wednesday as the Ministry of Public Infrastructure steps up road works in the area.

Anil Nandlall Former Attorney General Anil Nandlall today rejected an explanation by Minister of State, Joseph Harmon over the government's directive to the Police Service Commission to halt promotions.

The improvised weapons (Prisons photo) Prison Staff this morning with the support of the members of the other services, reported for duty at the new holding area lusignan Prison.

Nicolas Maduro CARACAS/LIMA, (Reuters) – A group of 12 regional nations plus the United States rejected Venezuela's new government-allied legislative superbody, saying they would continue to regard the opposition-controlled congress as the country's only legitimate law maker.

Eighteen prisoners at the Lusignan penitentiary were being treated for injuries last night following a reported attempt to kill a fellow inmate during which warders fired shots.