Alieshaw Barker, the woman at the centre of the Congress Place shooting last month has denied that she wilfully did not turn up to testify in the court case and she is unhappy at the freeing of the accused.
Earlier this month, Linden Primo who was accused of threatening behaviour to Barker, thereby resulting in a breach of the peace was freed of the charge on the grounds of the continued absence of his accuser. Primo had been identified as the person who discharged a round during elections at the party's Biennial Congress. There was a photograph with him holding a gun which was published in the Stabroek News the day after the incident.
Primo was nabbed at the airport as he was preparing to board a flight to the United States.

Barker, a resident of Linden and a party member had not attended court since the first hearing of the case on July 31.
She decided to break her silence on Tuesday after being contacted by this newspaper. She detailed what occurred at the congress and in the period leading up to when the matter was thrown out of court.
"I was never called to appear in court. When I went to court the first day I did not understand what happen and I thought the matter was finished", Barker told this newspaper.
The woman said she was surprised to read in the newspapers that she was called repeatedly and that she failed to appear in court. She said that she is not sure what she can do now.
Prosecutor Jomo Nichols in his address to the court on the day the matter was dismissed apologized for Barker's repeated absence while explaining that he could not say why she kept absenting herself from every hearing.
The prosecutor explained that he personally made several calls to the phone number provided by Barker but to no avail. He said he also prepared summons which were served on the woman but yet she failed to respond or attend court. According to Nichols from the initial hearing Barker had always been aware of subsequent court dates but he could not say why she was not attending court.
Detective Corporal Hurbert Henry was the lone witness who took the stand. Keisha Sampson, another witness who failed to attend court was said to be in Berbice.
"I feel that this is a whole cookery. It is a sellout that is just my feelings," Barker told Stabroek News in the interview.
When pressed on her statement she said that it is known that government officials are shareholders in the mining company the man works with and it would not cast a good light if he was convicted.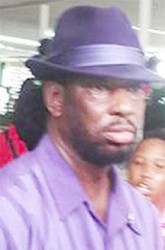 But more importantly she said Opposition and PNCR Leader Leader David Granger would not want the man to be convicted for the alleged Congress Place shooting incident.
Barker said leading up to the case she was called and warned to not follow through with the matter.
"But I was still prepared to go to court because I say if I have to dead let me dead but I am telling you no one called me, that is the truth," she maintained.
Stressing that she is "very dissatisfied" over the outcome of matter the woman also expressed shock at how she learnt the man was eventually charged. She said that she was called and told to go to the station to identify Primo but when she arrived with her lawyer she was gruffly told by the police that the man was appearing in court.
"I had to go down to the station. Nobody tell me that he get charged and when I went down I ain't even understand what went on and nobody tell me to come back to court.", Barker said.
She also stated that she does not understand the charge that was instituted against the man and questioned why he was not charged with being in possession of a firearm when he was apparently not the holder of a licence as well as threatening behaviour since she felt very threatened on July 27th when the incident occurred.
Discrepancies with the Region 10 list
Recounting what transpired on the day of the shooting, Barker recalled that the Linden contingent arrived at Congress Place and even though she said they had done due diligence and ensured that their list was in order they were told on arrival that there were some discrepancies with the list.
She said they (the entire delegation) were advised by party member and Member of Parliament (MP) Winston Felix to go to the door of the conference room where the issue would be sorted out. However on arrival at the door MP Annette Ferguson, who was calling out names, indicated that the members of the Region 10 delegation should step back. Barker said she objected and said that it was unfair and that whatever issue their list had should be sorted.
"As soon as I say that, I see this man [Primo], who was standing behind her, whole countenance change and some other lady start like teasing him…" she said.
The woman said she took out her phone and started videoing. The woman, according to her continued to tease Primo and it was at this point that he pulled out a gun.
"I didn't feel threaten when he do that because I say man this is Congress Place and is in public nobody will shoot."
While the other persons were teasing him, Barker said that Primo kept his eyes on her before allegedly firing a shot. The crowd, she related then swarmed her and she fell to the ground.
"When I fall to the ground with people running around me this man come and stand over me and point he gun at me and is then I feel really threatened and is some guys come and move he away…and when I on the floor one ah dem even kick me up," Barker said.
As she rose to her feet in a daze, Barker said she was even more shocked at a statement made by one of the party's leading figures.
She related that the person said "Linden people always making trouble and disgusting, shoot them and kill them'. And I say to myself how you could say something like that about a people who have been supporting you? A people who help you do so well at the last elections because they vote for you?"
She also expressed shock at the way she was treated at Congress Place after the incident as she said while staff members picked her up and offered her water no one wanted to assist her in reporting the matter.
"I tell them I want report the matter because I was scared for my life and nobody you know ain't advise what station to go or even offer to take me to the station," the 36-year-old mother of four said.
Barker noted that Lindeners have traditionally worked hard for the PNCR and they should be treated with more respect. She charged that the leadership of the party is trying to divide the bottom.
"Now it is hard for me to support a party that does not support its grass root," Barker said stating it is was in 2011 that she really came to the forefront of the party in Linden and worked.
She recalled that she helped organize all the meetings in Linden with those in charge in the mining town and how the ladies would at times leave their family to ensure things run smoothly whenever there was a PNC event in the mining town.
Asked if she would support the party in the future, Barker said that she cannot support any other party because she grew up with her parents and grandparents supporting the PNC.
"I would support our Chairman Mr (Sharma) Solomon because he is a young man…but when it comes to working for the party and so on no I would not be at the forefront", she stressed.
 End of matter
Meanwhile, it is unclear if the police intend to pursue another case against Primo in light of how this case ended.
However, a legal source told Stabroek News that because the matter was a summary one in which the accused was allowed to plead, the same charge cannot be refiled against him. It was explained that when the case was discharged it was on merit meaning that it was a summary charge in which the person was required to plead.
It was also explained that it is not only based on the fact that he had pleaded that the same charge cannot be refiled but because the accused would be put in double jeopardy, meaning that he would be charged twice for the same offence.
"This is why the laws should be changed…because people find all kinds of loopholes to get it thrown out", the source stressed.
Comments

In preparation for Guyana's emerging oil and gas sector and the bustling business usually synonymous with the industry, the Pegasus Hotel is expected to undergo a huge expansion which includes office and residential rental spaces.

Police Commissioner Seelall Persaud is to resume his duties today after spending approximately six months on leave, Public Security Minister Khemraj Ramjattan yesterday confirmed to Stabroek News.
The Alliance For Change (AFC) yesterday launched a scathing attack on the union GAWU, accusing it of decades of sabotage of the sugar industry and not genuinely representing the interests of its workers.

The importance of foot health, especially for persons with diabetes, was emphasized by Podologist Yvonne Braithwaite yesterday, when she launched the local leg of Rovon Health Care Inc, which includes a foot spa.

All local and international bidders for government contracts are being asked by the National Procurement and Tender Administration (NPTA) Board to complete a NPTA Supplier Registration form to obtain a registration number which they can use on bidding documents for quick database referencing.