PPP asks Gecom to extend claims and objections period
The People's Progressive Party does not believe that the current period for claims and objections to the preliminary voter's list is sufficient and has written to the Guyana Elections Commission (Gecom) asking for a seven-day extension.
"The PPP is convinced that an extension at this critical time is necessary to ensure most if not all eligible Guyanese are on the List and not disenfranchised whenever elections are called," a statement from the party said yesterday.
The current deadline for claims and objections is August 24, 2014. The PPP's position was echoed by Head of the Presidential Secretariat Dr. Roger Luncheon at yesterday's post-Cabinet press briefing.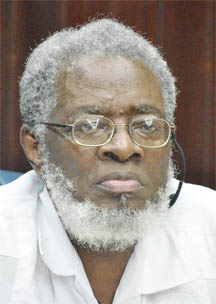 "The concerns that the administration has, and these deal primarily with transfers and the volume of transfers, for which we harbour a fear that they will not be dealt with properly in this short period that remain. I suspect that the request may very well be associated with a minimum of one to two weeks' timeframe," Luncheon said.
He said too that at this week's Cabinet meeting the focus was heavy on the electoral process and concerns about Gecom's preparedness was discussed.
According to the PPP's statement, the party was dissatisfied with Gecom's notification process in informing residents of mobile units, the selection of convenient days and times to accommodate residents and the meagre time spent in hinterland and riverain communities.
"The PPP has received valuable information from our extensive field work countrywide which proves there are many persons who are still to effect transfer of their particulars from one list to another, especially in New Housing Schemes," the statement says.
"Time and again the Party had engaged Gecom to conduct mobile registration in these schemes as well as hinterland and riverain communities; even though some amount of work was done," it adds.
The statement said that the PPP had made representations for the over 8,000 persons that were still to take transfers at the end of the last continuous registration period. However, ground work has shown there is still a significant amount of persons to make claims and objections.
The PPP called on major stakeholders to support its call for an extension "so that every eligible Guyanese can get on the list paving the way for transparent, free and fair elections whenever they are called."