Samples from Turkeyen corpse sent for overseas testing
DNA samples taken from the skeletal remains of a woman found along the Turkeyen Road last month and from the parents of missing teacher Nyozi Goodman, have been sent overseas for analysis, Crime Chief Leslie James revealed yesterday.
James told Stabroek News that the samples left Guyana for a Caribbean location.
Meanwhile, Goodman's family are anxious to know whether the skeleton discovered along the road is in fact her.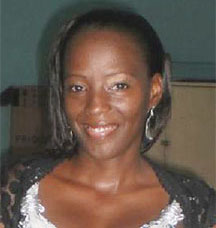 Goodman, 34, went missing on July 3rd after a school basketball game at the Cliff Anderson Sports Hall. The night she disappeared, Goodman had reportedly told her students that she was waiting for someone to pick her up.
Her mother, Carol Greene said she is still waiting for the school to contact her since her daughter was on duty at the time she disappeared. She had told Stabroek News, before the remains of the unidentified woman were found, that she believed her daughter was "somewhere on the East Coast."
A few days later, she had identified a belt found at the crime scene as her daughter's. At the crime scene, a rotten tooth was discovered on the body. According to Goodman's brother, Nestor Thompson, his sister had a similar tooth. However, the family was unable to identify the body because of the state of the decay. The corpse was believed to be about five feet, five inches tall and between ages of 25 and 40 years old.
Greene maintains that she did not believe her daughter is dead. Her husband, however, stated that he believed that she was gone. "I don't believe she is alive," he told this newspaper.
A post-mortem examination performed on the skeleton gave the cause of death as incised wounds to the abdomen. It was performed on site by Government Pathologist Nehaul Singh on the morning after the body was found, due to the advanced state of decomposition.
Two persons were initially arrested in connection with Goodman's disappearance but were released later. One of the men was believed to be a suspect in the disappearance of Lance Corporal Patriena Nicholson, who vanished mid-last year. She was last seen at a Republic Bank ATM at the Kitty GuyOil Gas Station.
According to sources, the man had confessed to police that he dropped off Goodman at the Sports Hall that Sunday afternoon but denied picking her up.