By Dacia Whaul and Femi Harris
An East Ruimveldt man has been charged with the murder of businessman Ashok Raghoo, whom he allegedly robbed of $4 million during a fatal attack at a stop light on Vlissengen Road on Monday.
It is alleged that Travis Mc Dougall, 24, of Lot 422 East Ruimveldt, murdered Ashok Raghoo in the course or furtherance of a robbery of both him and his wife, Shayraz Raghoo, of property that valued $4 million. Mc Dougall was not required to plead to the indictable charge when it was read to him by city magistrate Fabayo Azore, who heard from the man's lawyer that he was tasered by police while in custody. A sizeable crowd comprising relatives and friends of the accused gathered outside the court with placards to protest the man's incarceration and treatment.
However, the police prosecutor denied the allegation of abuse when it was brought to the court's attention.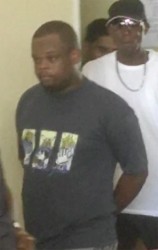 Inspector Michael Grant told the court that Mc Dougall was charged after being positively identified by Shayraz during an identification parade.
Grant noted that the Raghoos were driving in a car along Vlissengen Road and stopped at a traffic light that signaled red. Grant said that the accused and another rolled up on the driver's side of the Raghoos' car and one of them shot Ashok in the chest and grabbed a bag from him. Shayraz held on to the bag and was also shot, he added.
Grant said the accused and his accomplice then made good their escape, while the injured couple were transported to the Georgetown Public Hospital, where Ashok was pronounced dead on arrival. Grant added that leads and evidence subsequently led to the arrest of Mc Dougall. Mc Dougall's attorney, Kendacie Rodney, told the court that on Wednesday a taser was used on her client by two police officers, whom she identified as "Kingston and Corporal Lowe." Rodney made an application for Mc Dougall to be taken to the hospital for the issue of a medical certificate to support his claims.
But Grant refuted Rodney's assertions that a taser was used on Mc Dougall. "Nothing was used to interrogate," he added, while noting that Mc Dougall had been taken to see a doctor already. Rodney immediately interjected and insisted that her client be examined by a doctor and have a medical certificate be issued. She also questioned the reason for Mc Dougall being taken to the hospital by the police. Grant then explained that the defendant was taken to the hospital after he complained of feeling unwell.
Magistrate Azore ordered that Mc Dougall be taken to the hospital and have a medical certificate issued, before remanding him into custody and adjourning the matter. The case will be called again on October 6, in Georgetown Magistrates' Court One.
Photos saved in pictures file.
Meanwhile, outside the city courts complex, a group of Mc Dougall's supporters shouted that he was innocent and was being framed for something he did not do. "Travis is no murderer," read the placard hoisted by one supporter. "Travis is being framed," another said
Among those present at the demonstration was former murder accused Shaka Chase, who was discharged in the 2013 murder charge of Corporal Romein Cleto after the Director of Public Prosecutions found that there was insufficient evidence to identify the shooter.
"The same thing what they do to me, they doing to my Friend," he angrily declared. Chase had alleged that he was tortured while in custody and has since filed a lawsuit against the state asking for a declaration that he was tortured while in police custody and seeking in excess of $200,000 for a breach of his constitutional rights and assault.
While some supporters tearfully protested on the streets of Avenue of the Republic, others who could not find seats in the courtroom congregated in the hallway and the public waiting area. "Imagine how the police lockup Travis boy," one shouted. "They ain't get no heart, boy," another said.
As the accused was being escorted from the courtroom into the holding facility, his relatives encouraged him to "stay strong, and keep praying, God is in charge."
Relatives of the couple remained tight-lipped on the crime. Shayraz is an admitted patient at the Georgetown Public Hospital.
Comments

Anil Nandlall Former Attorney General Anil Nandlall today rejected an explanation by Minister of State, Joseph Harmon over the government's directive to the Police Service Commission to halt promotions.

The improvised weapons (Prisons photo) Prison Staff this morning with the support of the members of the other services, reported for duty at the new holding area lusignan Prison.

Nicolas Maduro CARACAS/LIMA, (Reuters) – A group of 12 regional nations plus the United States rejected Venezuela's new government-allied legislative superbody, saying they would continue to regard the opposition-controlled congress as the country's only legitimate law maker.

Eighteen prisoners at the Lusignan penitentiary were being treated for injuries last night following a reported attempt to kill a fellow inmate during which warders fired shots.

A 12-year-old girl is now dead, while her brother narrowly escaped a similar fate yesterday after their aunt's La Bonne Intention (LBI), East Coast Demerara house, which they were under, collapsed on them.