Amid continuing concerns that Asian firms are ripping out logs from forests here without any serious intent to set up processing plants, Natural Resources Minister Robert Persaud yesterday said these companies have signaled that they will be "serious" about their commitments.
Bai Shan Lin of China and Vaitarna Holdings Private Inc. of India are two of the companies cited in recent press reports and Persaud told Stabroek News that his ministry has and will continue to be tough on any operator, in the logging and other sectors, found to be in violation of its commitments and Guyana's regulations.
"If they are found in violation we will be tough, as we have been in this regard," Persaud said speaking during a brief morning interview yesterday. However, when asked to specify occasions on which the ministry has been tough, the minister could not offer an immediate comment. Instead he said he would furnish Stabroek News with documents relevant to such actions at a subsequent time. He did say, however, that there have been cases where companies found violating agreements and laws have been warned, and others where they have faced penalties of varying natures.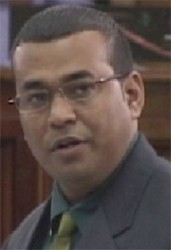 Asked if he was concerned that the processing facilities promised by the two companies have not yet been set up, He said the ideal is to have the processing facilities very early but noted that there is a permitting process that has to take place to facilitate this.
For weeks Bai Shan Lin and Vaitarna have been in the public's eye over concerns that they have failed to live up to commitments to value-added processing of timber even though they continue to export large amounts of logs. Bai Shan Lin came to Guyana in 2007 and started exporting logs the following year. Vaitarna has been here since 2010.
Bai Shan Lin continues to export logs although the status of its processing facility is in question. The processing plant was supposed to provide employment for Guyanese residing in the areas where its operations are taking place, as well as add value to logs being harvested. Though figures from the International Tropical Timber Organisation (ITTO) show that the export of logs has increased by 80 percent compared to last year, the export of processed wood, including plywood, only increased marginally – 4.3 percent. The Guyana Forestry Commission (GFC) has sought to defend Bai Shan Lin but the lack of value added activity remains striking.
Vaitarna is not in a better position. The Indian logging company came to Guyana in 2010 and started exporting in 2012. Persaud had said that the company would have completed its wood-processing facility earlier this year to commence operations. With just about four months remaining in the year, the company is yet to even commence its processing facility.
In fact, Vaitarna made no public announcement on the status of its plant for many months. It was only after an August 14 article in Stabroek News on the company's failings with regard to the promised processing plant that the company, the following day, broke its silence and announced that it expects to complete its sawmill by year end. The company also confirmed that it was expanding its operations in an effort to speed up production.
 On their cases
When the company's failings were put to Persaud yesterday, he said, "Our position has always been that all investors stick to their commitments, especially in this particular area that you move quickly to establish processing facilities." Reminded that the companies have been operating for years without fulfilling their obligations, he said, "We have been constantly on their case and they have indicated to us that they will be serious about it." These commitments, he added, have been communicated in the quarterly reports the companies submit to the relevant agencies.
Persaud insisted that the ministry is always interested in having companies fulfil their obligations early. "We will continue to insist that it happens," he added.
He did say, however, that he will not be defending or speaking on behalf of any company to explain why things are the way they are. The companies, he continued, have to explain for themselves. Both Bai Shan Lin and Vaitarna in recent weeks have sought to explain away claims against them via press releases and advertisements but their efforts have thus far been unconvincing.
Neither has offered a public engagement, although the GFC recently held a press conference in an attempt to put to rest questions being asked by the press. Meanwhile, Persaud said that the ministry will continue to insist that timelines and commitments are honoured.
 Debate
Meanwhile, Persaud expressed his support for an impending debate between APNU MP and member of the Sectoral Committee on Natural Resources Joseph Harmon and GFC Commissioner James Singh. Following Harmon's critique of the GFC on matters surrounding Bai Shan Lin and Vaitarna, Singh invited him to a debate at which the two would go head to head. Harmon has accepted and has requested several documents he says is vital to his participation. Persaud said yesterday that the GFC will make some of the documents available to Harmon while it will not be able to provide others.
The minister said that several of the documents are not in the purview of the GFC and that Harmon will have to request them from the relevant agencies. He did not say which ones. Harmon has also asked that the debate be kept in September at a location in Linden. He also asked that the venue be able to accommodate around three thousand persons.
"I am always interested in having the public be able to fully appreciate the facts… if there are different points of views, it is important that those are presented in an environment that is constructive so there can be responses so people can judge for themselves…so any form of debate, any form of discourse, is welcomed, and that is why I myself have appeared within the last seven or eight months before the Natural Resources Sectoral Committee," Persaud added.
According to Harmon, Persaud has failed to supply the committee with documents requested on the forestry sector. This, he has said, had prevented the committee from going as deep as it would have liked during the ministry's hearings. During the interview, Persaud said that his ministry has furnished the committee with all the information it has requested as of yesterday.
Comments

Vamanadev Hiralall, of the privately-run Saraswati Vidya Niketan (SVN), is the country's top performer at this year's Caribbean Advanced Proficiency Examinations (CAPE) after achieving an accumulated 13 grade one and 3 grade two passes.

Twenty-six students in the top one percent of the 12,684 who sat this year's Caribbean Secondary Education Certification (CSEC) examinations earned 12 or more Grade I passes, with half of them, including the top performer, coming from Queen's College (QC).

On the second day of the Commission of Inquiry (CoI) into African ancestral lands and other matters, four witnesses made cases for the return of lands they feel they are rightly entitled to, which were either taken by the state or occupied by private owners.

Shelton George, the man charged with both murdering a waitress at a Chinese restaurant and the attempted murder of a magistrate, was found dead in his cell at the Lusignan Prison yesterday morning.

The Chairman of the Triumph Neighbourhood Democratic Council (NDC) yesterday instructed workers employed on a private site, reportedly intended to build a first-floor pool, to cease operations, just two days after residents called on authorities to halt its construction.