The use of surveillance cameras by both large and small businesses has soared within recent times in the wake of an increase in crime, but while this may seem to be the ideal security option President of the Georgetown Chamber of Commerce and Industry (GCCI) Lance Hinds believes that careful thought should go into such a move.
Stabroek News spoke to a number of businesspersons around the country and they all held firm that cameras are their best mode of protection.
Speaking to Stabroek News recently, Hinds said that there are competent companies that are providing this type of service and there have been no complaints from members of the Chamber who have installed surveillance cameras about the quality of service provided.
Asked about business people who opted to buy the cameras on their own rather than going to a local company which sells them, Hinds advised that the best business practice is to seek professional advice. "To me, if I am the owner of a business, I am looking for a security solution …it is not much what type of CCTV solution I should find. It is what kind of security solution I need for the business that I have," he said, adding that the solution that is eventually chosen is a business decision. "You have to put the value on the asset that you have and to decide on how you want to be protecting it," Hinds said.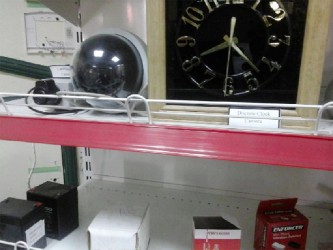 According to Hinds, the Chamber focuses on a larger picture in terms of what is the security solution and not necessarily on whether it should be CCTV cameras. Responding to a question on what options are available to small businesses like community shops, Hinds spoke of the need for a police presence to help prevent hold-ups and robberies. He said that the small shops would not necessarily be able to afford surveillance equipment much less a guard service. He said that ways have to be found to strengthen the relations between the owners of these small shops and the members of the community they are located in.
Quizzed on whether there is any arrangement in place at the Chamber to assist the owners of these small businesses to purchase surveillance equipment if need be, he replied that the GCCI can always advise but funds are not available to undertake such a venture.
He said that in this regard, through research, the Chamber may be able to identify the lowest cost security solution for this category of business owner. "There are some less expensive things that you can do…quality is always a concern as well. The only thing that we can possibly do is look at that. We may be able to engage in a discussion with our members to look at the possibility of a lower end or a cheaper solution that will specifically target those very small businesses," he said before pointing out that there is a limit to what his organisation can do, as crime is a socio-economic and national problem.
National issue
According to Hinds, fighting crime needs a national discussion that requires a national solution.
He stated that he would urge business people to protect themselves. He said that attention needs to be paid to the cost attached to securing oneself. He said that the discussions needs to be centred on how we reduce crime.
Hinds stressed that cameras don't stop a person from invading a business and robbing and shooting. An armed security guard, he added, escalates the problem. "That is why we are saying that this is a national issue that we have got to solve," he added.
He later stated that there have been continuous discussions between the private sector and law enforcement on addressing crime. "Wherever we can help, we do. It [the discussions] gives us a case to offer our recommendations," he said, before adding that it is a "work in progress."
Hinds said he was concerned about the amount of money that has to be spent on security. "We would like to get to a place where we don't have to spend that much," he said.
Meanwhile, Hinds, who has a background in Information and Communica-tion Technology, explained that the
bandwidth here is very low, which affects the transmission of video. He said that the country does not have the infrastructure to support the telecommunications infrastructure that is preferred. He said what is needed is an improvement in the national telecommunications infrastructure, not only for security purposes but for a number of other reasons.
Hinds said that improving this sector will depend greatly on what will happen in the next few months. He said that telecommunication liberalisation is on the cards and hopefully it will be dealt with when Parliament reconvenes in October. Once this happens, he said, persons will be able to look at the kinds of solutions that can be provided. He said that there are some high speed solutions that are available but these are costly.
He said that once there is telecoms liberalization, the door will be open for players who can provide the kind of high speed services that are needed. Hinds explained that the limited bandwidth affects the quality of the footage.
'A sense of security'
Rehman Majeed, General Manager of Starr Computer, told Stabroek News that businesses should have a surveillance system as part of their security set up. He said that while some people will opt for the traditional security guards or an alarm system, "CCTV is the current way to actually protect your building."
He said that having used this technology for over two decades, the benefits far outweigh the cons. "I can't see us not using them. It not only helps with crime but it creates a sense of security," he added. "The more you put it in, I think that you can solve a lot more crimes."
Majeed has found that more homeowners and businesspersons are installing surveillance equipment. The company has customers in every part of the country. He attributed this increase not only to an increase in crime, but to people's desire to be able to monitor remotely using the internet. He said that persons can use their cell phones or laptops to monitor their home or premises from overseas, but noted that locally the slow internet speed remains a challenge in this area.
Asked about the quality of the cameras people are buying, he said that the problem in Guyana is that cost is an issue and this ultimately will affect what people purchase. He said that currently security cameras attract 16% VAT. He opined that there should be a waiver on this for a period of time, not only to lower the cost but also to encourage people to buy good quality devices. He said that there should be a waiver not only on cameras but on all security equipment for a period of time.
According to Majeed, on average the lower end high quality cameras will cost around $95,000.
He opined that to use these cameras successfully, there ought to be some collaboration between businesses and the police, where there is a database of businesses with cameras, and once a crime has been committed investigators will be able to identify a place where they can get footage that may be useful. According to Majeed, with such an arrangement police will be able to track persons who have committed crimes using surveillance footage. There should also be collaboration among businesses, he said, where they can willingly share information with each other if they believe that their cameras might have captured something useful.
'Real time monitoring'
According to Maurice Amres the head of the GEB Security Services, the company's vision will be to offer real time monitoring of surveillance footage from cameras installed for clients.
"We want to monitor the compounds of our clients from the office," he said, while noting that the company hopes to have a wall of monitors with people monitoring them. "They will have communication with the patrols and once something funny is spotted, the patrol and the police are informed. That is where cameras can be effective," Amres stated.
However, he said executing such a venture is very expensive.
"We are moving towards that direction but we are waiting on the technology to become more… in some places there are satellite controlled security cameras but these are expensive. We are waiting for it to cool down a bit, which is our ambition," he said.
Amres explained that the cameras that exist in Guyana are wired and to replace them with wireless cameras will be very expensive.
Asked about the timeframe in which the company hopes to make its vision a reality, Amres said that it will depend on the market. He said that they will first have to find out how many clients would get on board and what it will cost because "they will have to pay for it and the technology is expensive… you can't run wires to every location."
Amres said that for about 15 years his company has been using surveillance cameras as part of the service that it offers. Recently, more and more business people are coming forward to ask for this type of service, he said.
He described the camera as a deterrent but added that today's criminals have gotten bold. He said that the only thing that is working to deter them right now is when they recognise that you have electronic security and you have back-up.
'We feel safe'
A North West businessman said that his cameras make him feel safe. He stated that when he opened his business, he installed the cameras. While he has never been robbed, he is sure that in the event that a robbery does take place his cameras will be able to pick up good quality footage.
He said that while for some it may seem costly, security cameras should be seen as an investment and business people ought to stop looking for the cheap way out.
Another businessman, who operates in the city, said that his cameras give him peace of mind. He has been in business for in excess of 10 years and this has been a security feature at his business.
He expressed the belief that some system should be put in place where businesspersons don't have to pay the taxes attached to surveillance cameras. He said that it should be zero rated and businesspersons must not be put in a position where they have to apply for a concession, which takes a very long time to be processed.
He said that business people must not depend on the cameras alone and must be vigilant. According to him, a preferred option would be the cameras plus a security guard. He urged business people to make use of technology and electronics and invest in cameras.
There have been several instances where the images captured by cameras at businesses resulted in the arrest of suspects. One such case was the Orange Walk shooting. The camera, which was mounted on a nearby store, captured the last minutes of Shawn Nelson's life. The images were clear but despite the fact that the shooter's face was clearly visible, he was freed.
Comments

UN experts condemn racist violence in U.S., urge investigations GENEVA, (Reuters) – United Nations human rights experts called on the United States today to combat rising racist violence and xenophobia and to prosecute perpetrators of hate crimes.

The twin-engine Beechcraft seized by authorities on an improvised airstrip on Sunday in the North Rupununi, Region Nine area, was yesterday confirmed as bearing a registration number belonging to an investment company in Brazil.

ExxonMobil yesterday signed a deal with Guyana Shore Base Inc (GYSBI) for an onshore support facility at Houston on the East Bank of Demerara.
While students who sat Caribbean Examination Council (CXC) exams in May and June of this year will be able to access their results online on Friday, the Ministry of Education has already announced that Guyana has recorded a 7% increase in passes at the Caribbean Advanced Proficiency Examinations (CAPE).

A post-mortem examination is expected to be done today to determine the cause of death of a nine-month-old baby, who died on Monday after she was left in a car.