PPP exploring 'national alliance'
Facing possible early general elections, the People's Progressive Party (PPP) has announced that it is meeting with various stakeholders to gauge interest in the formation of what it is calling a "National Democratic Front" alliance.
At the party's weekly press briefing at Freedom House, PPP General Secretary Clement Rohee was not inclined to disclose the extent of the discussions but noted that the party was just speaking to interested parties to test the waters to see the interest, which he noted has been positive.
It is believed that the PPP is readying itself for general elections before the opposition has the opportunity to pass a no-confidence motion against the Donald Ramotar-led administration.
Rohee said that the basis of the idea was to advance the party much like when its Civic arm became an inclusive component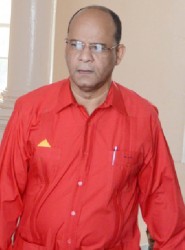 for the 1992 general elections. He added that the dialogue was in the preliminary stages and assured that it was not a political ploy.
During the press briefing, Rohee stated that the National Democratic Front was a political framework that would advance democracy in Guyana through a partnership of Guyanese who were also committed to the party's vision.
"The PPP has been meeting with various stakeholders and interest groups to discuss the political situation and the need for more to be done to realise the establishment of this broad National Democratic Front Alliance, which would see Guyanese electors benefiting significantly from higher levels of transparency, accountability, good governance and democratic rule," he said, while adding that the promotion of democracy would envisage economic gains.
Rohee also accused the opposition and specifically A Partnership for National Unity (APNU) of diminishing the hope of shared governance, while noting that a sense of trust between the parties is crucial.
He said that the PPP was calling on APNU "to stop its pretence of national unity and to join the national conversation towards the establishment of a broad National Democratic Front with the aim of advancing Guyana's development." He added, "the PPP maintains that [Leader of the Opposition and APNU David] Granger and his acolytes in the opposition have done all that they could do so far to deepen the differences between political parties and further diminish any hope of shared governance becoming a reality."
While the party is in the beginning stages of mobilising support, Rohee said that the party's principles and track record will attract stakeholders. He said that during the informal meetings, a wide range of stakeholders expressed resentment about the opposition's misuse of its one-seat majority.
Meanwhile, Rohee criticized the Stabroek News, saying that the party was "also appreciative of the fact that contrary to what the Stabroek News described as 'usual fulminations' more and more stakeholders are condemning the opposition's actions to stymie development and cripple progress in advancing the socio-economic growth of Guyana."
The Sunday Stabroek editorial had charged that the PPP's new message to its traditional constituency "is that the combined opposition is stymieing everything, and there can be no progress or development unless the ruling party recovers its overall majority."
It added, "There are, of course, the usual fulminations against the PNCR, but since the ruling party's constituents have heard it all before, it is perhaps a moot point as to how effective the repetition is nowadays, and how much credibility the PPP/C still retains."