City Hall Public Relations Officer Royston King was yesterday arraigned on a forgery charge, based on the allegation that he wrote a letter purporting that he was the acting Town Clerk, when he was not appointed to so act.
King, 49, whose hearing took place within the view of a courtroom filled to capacity with mostly relatives, was released on bail in the sum of $70,000.
As he exited the chute to make his way into the courtroom in the company of other prisoners, King smiled and shook his head in apparent disbelief and then sat in the prisoners' dock and waited for his case to be called.
City Magistrate Judy Latchman, before whom he later appeared, explained to him that he was not required to enter a plea to the charge of a forgery of an official document, which stated that on July 13, 2012 at Georgetown he wrote a letter to the Beacon Foundation and signed same, purporting that he was the Town Clerk Acting, a position he did not hold nor was appointed to act in at the same time.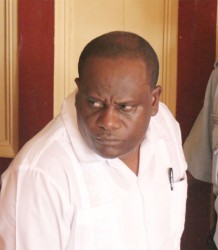 No details other than those stated in the charge were presented to the court.
In a bail application, Kendacie Rodney, who represented King in association with attorney Nigel Hughes, said that her client is employed as a local government officer attached to the Mayor and City Council.
Rodney asked for reasonable bail, while noting that King, who is a father of six, had no previous convictions and had a fixed place of abode at 3279 Canal Place, South Ruimveldt Park and was no flight risk.
Prosecutor Joel Ricknauth had no objections to the lawyer's application.
After hearing the case, Magistrate Latchman granted King his release on bail.
His matter will be called again on September 16 at Court One before Chief Magistrate Priya Sewnarine-Beharry.
Earlier this year, Auditor General Deodat Sharma had been asked to investigate King for allegedly signing a tax waiver without the legal authority to do so. The waiver, for some $36 million, was granted to the Beacon Foundation.
Acting Local Govern-ment Minister Norman Whittaker had told Stabroek News that he had written a letter to then Police Commissioner Seelall Persaud to also alert him about the purported irregularity. "I have asked the Auditor General to investigate the matter and I have also written a letter to the Police Commissioner on the matter," he had stated, while explaining that he was "not about to accuse King of anything" but that the situation was enough to warrant investigations.
In response to the minister's claims, King had said that when he wrote the Beacon Foundation, he was appointed by the council to perform the duties of the Town Clerk of Georgetown.
Recently, Whittaker has been accused of acting outside his legal authority by ordering the granting of a waiver to waive rates and taxes owed on a city property, although Attorney General Anil Nandlall earlier this year said that the Ministry of Local Government has no lawful power to waive rates and taxes. City councillors have since asked the police to investigate Whittaker's actions.
Comments

Nicolas Maduro CARACAS/LIMA, (Reuters) – A group of 12 regional nations plus the United States rejected Venezuela's new government-allied legislative superbody, saying they would continue to regard the opposition-controlled congress as the country's only legitimate law maker.

Eighteen prisoners at the Lusignan penitentiary were being treated for injuries last night following a reported attempt to kill a fellow inmate during which warders fired shots.

A 12-year-old girl is now dead, while her brother narrowly escaped a similar fate yesterday after their aunt's La Bonne Intention (LBI), East Coast Demerara house, which they were under, collapsed on them.

Guyana has officially applied for membership in the European Union's Extractive Industries Transparency Initiative (EITI) which will help in tracking revenues from oil and other natural resources.

State Minister Joseph Harmon yesterday reiterated that President David Granger's directive to the Police Service Commission to halt its consideration of promotions was intended to prevent damage to the image of the Guyana Police Force but he could not say under what authority the head of state acted.