A second man was yesterday charged with murdering businessman Ashok Raghoo, who was shot dead during a robbery in the city last Monday.
Jermain Otto was remanded to prison after being arraigned on a murder charge before Magistrate Judy Latchman at the Georgetown Magistrates' Court.
Otto, a 25-year-old miner of 735 East Ruimveldt, was not required to enter a plea to the charge, which stated than on August 18, at Vlissengen road, he murdered Ashok Raghoo in the course or furtherance of a robbery of both him and his wife, Shayraz Raghoo, of property valued at $4 million.
No additional details relating to the charge were presented to the court. On Friday last, Travis Mc Dougall, 24,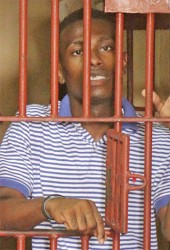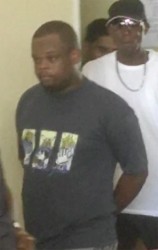 of Lot 422 East Ruimveldt was remanded to prison after being charged with Raghoo's murder as well.
Magistrate Latchman explained to Otto that he would not be required to plead to the charge but asked him whether he had any complaint he wished to relate to the court.
"I can't even ketch myself," the unrepresented Otto then said before explaining that he was just picked up by the police, who told him that he had robbed and killed someone and would be charged.
"I know nothing, nothing on to now," the man lamented. "It just wrong fuh pickup somebody child just suh and charge them."
Otto said he was innocent and knew nothing that is "going on." He added that he just recently purchased school supplies for his
children for the new school term.
Otto was subsequently told that he would be remanded to prison until September 27, when he is scheduled to make his second appearance at Court One before Chief Magis-trate Priya Sewnarine-Beharry.
At last Friday's hearing, Prosecutor Michael Grant said that the Raghoos were driving in a car along Vlissengen Road and stopped at a traffic light.
Grant said that Mc Dougall and another rolled up on the driver's side of the Raghoos' car and one of them shot Ashok in the chest and grabbed a bag from him. Shayraz held on to the bag and was also shot, he added.
Grant said the accused and his accomplice then made good their escape, while the injured couple were transported to the Georgetown Public Hospi-tal, where Ashok was pronounced dead on arrival. He added that leads and evidence subsequently led to Mc Dougall's arrest.
Comments

Left-arm spinner Ashmead Nedd … picked up a couple wickets in Guyana's win.  

Jerry Lewis   LOS ANGELES,  (Reuters) – Jerry Lewis, the high prince of low-brow comedy on stage and in movies as well as a fund-raising powerhouse with his annual Labor Day telethon, died today of "natural causes" at the age of 91, his family said.

Beharry Automotive Limited (BAL) , the authorised distributor for Toyota parts and lubricants, says that an abundance  of imitation Toyota parts and lubricants have entered the market with the Toyota logo and trademark.

Grace Mugabe   HARARE,  (Reuters) – Zimbabwe's first lady Grace Mugabe returned from South Africa early today, state media reported, after a 20-year-old model accused her of assault in an upmarket Johannesburg hotel room.

Michael Bhopaul, 16, doesn't know if he is this year's best performer at    the Caribbean Secondary Examination Certificate (CSEC) Examinations, but with preliminary results showing that he has obtained passes in 25 subjects, he will be hard to top.