Airports have been successfully audited since 2003
-Works Ministry says in response to Benn's statement
The Ministry of Public Works yesterday said that a statement by Minister Robeson Benn that Guyana's airports are not meeting security standards was his personal perspective and since 2003, the Cheddi Jagan International Airport (CJIA), Timehri has been successfully audited by international agencies.
On Tuesday, a ministry press statement quoted Benn as saying that Guyana's international airports, the CJIA and the Ogle International Airport "are not meeting the minimum standards" on security.
The ministry had reported that Benn told the 25 plus participants that a dispassionate review of the airports' (CJIA and Ogle) security status indicates that "we are not meeting the minimum standards."
In another press release yesterday to "clarify" Benn's statement, the Ministry said that "the perspective he was making reference to,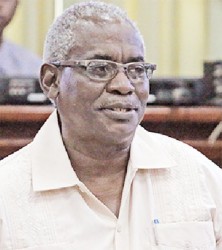 was his personal expectation of the security staff to raise the standard of service delivered to the passengers and users of the airports."
According to the release, Benn was challenging participants to be more industrious when executing their duties, since passengers rely on them to be safe and secure.
The ministry said that since 2003, the CJIA has been successfully audited by the Guyana Civil Avia-tion Authority (GCAA), Transportation Security Administration (TSA) and the International Civil Aviation Organization (ICAO) on an annual basis. Likewise, the Ogle International Airport is also audited by the GCAA for compliance with international standards on an annual basis, it asserted.
In its statement on Tuesday, the ministry had quoted Benn as saying at the opening ceremony for the Airport Risk Mitigation workshop that "it is important that we lift the security profile at the Cheddi Jagan International Airport and Ogle Aerodrome."
Over the years, there have been numerous attempts to smuggle drugs inclusive of cocaine and marijuana to both overseas and interior locations at the two airports.
In May, two airport loaders as well as a police dog handler, accused of concealing cocaine in the vent of the luggage hold of an outgoing Caribbean Airlines flight, were remanded to prison after being charged with narcotics possession for trafficking. The cocaine amounted to 2.2 kilos. There have been many other cases.