The Ministry of Natural Resourc-es and the Environment will provide $80 million towards a water treatment plant in Port Kaituma, Region One, in light of pollution of the main water source, the creek, as a result of mining, the Government Information Agency reported yesterday.
Minister of Natural Resources and the Environment Robert Persaud who was in the community yesterday for an interactive session with miners,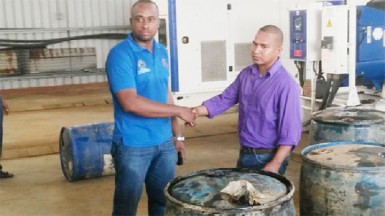 said "we also knew there is an issue of water supply and we did not sit back and say this is a GWI problem although GWI has been making some efforts," as he revealed the $80 million support.
Persaud added that the Ministry has been working along with GWI because it realises that the water source will pose some difficulties, especially during the dry season.
Persaud said the initiatives taken by the Ministry show its interest in supporting development in the mining community. "We don't want to only tell miners to produce more and what we have been doing to improve mining conditions, but also we look at how we can work with other Government agencies in supporting socio and infrastructural development."
Persaud said as a part of the Ministry's interest in the development of mining communities, a lottery will be done so that Port Kaituma miners will have more access to mining properties. He further urged miners to ensure mining is done in an environmentally sound way, GINA reported.
Meanwhile the Ministry presented four drums of fuel to the Power Generation Committee of  Port Kaituma.
The presentation of fuel to the PGC chairman followed a request to Persaud.
Comments

A police officer helps evacuate people after a van crashed into pedestrians near the Las Ramblas avenue in central Barcelona, Spain August 17, 2017.
A post-mortem examination is expected to be performed on the body of housewife Janice Edwards, 38, of 121 'C' Field, Sophia, ECD, to determine the cause of her death.

A sketch of the proposed Curepe Interchange (Trinidad Guardian) China Railway Construction Corporation (CRCC) has been awarded a $221.7 million contract by the National infrastructure Development Company (Nidco) to build the controversial Curepe Interchange, the state company's chairman Herbert George has confirmed.

Legal Advisor to the Police, retired Justice of Appeal, Claudette Singh yesterday testified that there was insufficient evidence in the allegation made by Andriff Gillard of an alleged plot to assassinate President David Granger.

Today at 2 pm the 30 councillors of the Georgetown City Council will once again cast a vote on the future of metered parking in the city and several of them have told Stabroek News that they want to be sure their vote accurately represents a mandate from residents.