A day after the Walter Rodney Commission of Inquiry (CoI) was told that more than 150 army weapons issued to external bodies were never returned, People's National Congress Reform (PNCR) lawyer Basil Williams suggested that the weapons had actually never left the custody of the Guyana Defence Force (GDF).
Williams made the suggestion yesterday after Lieutenant Colonel Sydney James, head of the Guyana Defence Force (GDF) G2 branch, was unable to provide information to the commission on just how the guns had purportedly left Camp Ayanganna.
James also agreed that a document, which showed that weapons had been "chargeable to the PNC" and under which someone signed for the House of Israel, could be deemed false since the party had no weapon account with the GDF.
The witness was tasked with providing information on the issuance of GDF weaponry to external bodies and on Tuesday said that 155 weapons out of 237 issued were yet to be returned to the military.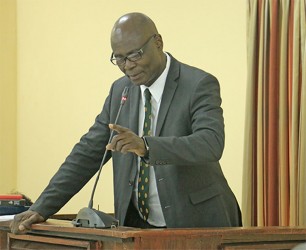 In his cross-examination of James, Williams noted that weapons were "serious matters" and, without proper authorisation, could not be removed from an army base. However, it was pointed out to Williams that the reality was much different from outlined protocols.
Pointing to a document provided by James showing the issuance of the weapons, Williams noted that though there was a section termed 'mode of conveyance', it was sorely lacking in information. The mode of conveyance indicates the means by which the weapons were removed from the base, such as by car or truck.
However, Williams questioned whether simply stating the vehicle type was enough.
"Don't you have to record 'Bedford motor lorry, registration number so, so, so?'" Williams asked. He continued, "Is it natural that putting the mode of conveyance – taking out the guns, the people's guns – that you'd have to have the registration number to identify the mode of conveyance?"
In response, James said it was not necessary to have the registration numbers on the particular voucher forms he had shown to the commission in his evidence. However, he said, gate passes showing relevant information, such as the registration numbers, are necessary for vehicles.
James did not provide any gate passes or written authorisations from the GDF and, when asked, said that he had been unable to locate any. When questioned by Queen's Counsel Jacqueline Samuels-Brown on just where these documents would be stored, James explained that they would secured within the Defence Board's archives. He further said that he suspected a separate record would be kept elsewhere. However, he admitted that he had not conducted any searches except for in the archives.
"We have a situation here," Williams pointed out. "No gate pass, no mode of conveyance indicated on those forms. So, is it unreasonable, Colonel James, to accept that the weapons on these forms never left Camp Ayanganna?"
James immediately responded. He explained that the position was unreasonable because two guns, which had been listed on the vouchers as issued to external agencies, had been found in Mahaicony in the early 2000s.
However, Williams pointed out that two guns were not the same as more than 200 guns.
"You tell us that guns were returned but when you went to do your investigations how many years after in 2008, you would've found guns there; the guns that you said were returned," Williams said. After James confirmed that he had indeed found returned weapons, Williams suggested that these weapons had never left the compound.
"How do you know they ever left the compound to be returned?" Williams asked. He went on, "All your vouchers are purporting to show is that certain weapons were issued to certain people and organisations. But there is no evidence from your records that they left in any identifiable mode of conveyance or a gate pass in the absence of that. I'm suggesting to you that you have given no evidence here to satisfy us that guns had actually left Camp Ayanganna, went out for a period time, and returned after a period of time."
In his defence, James said he did not know and further suggested that those persons involved in the issuances of weapons who are still alive should come to the CoI to present their evidence.
For hours, James underwent cross-examination that touched on a number of areas including the purpose of issued weapons. Weapons, he said, were issued for a number of purposes including hunting, security and combat. Some of the weapons he indicated had ranges up to 400 metres.
James was able to provide possible uses for the weapons in external organisations such as the Guyana Police Force (GPF) and the Customs Anti-Narcotics Unit (CANU). However, he was unable to determine a possible use for weapons in the Ministry of National Development and the Office of the Prime Minister as these bodies, he said, did not function in security capacities.
James was also questioned again on whether PNC had a weapons account with the GDF; he said no. Pointing to a document which showed that weapons had been "chargeable to the PNC" under which someone signed for the House of Israel, Williams asked James what that meant.
James explained that the document indicated that the House of Israel received weapons from the GDF from the PNC account. However, Williams asked, since the PNC did not have a weapons account the document could only be deemed as false; James agreed.
Williams once again questioned whether it was a reasonable inference that the author of the document was trying to smear the PNC. However, James maintained that he would not be able to say.
Misrepresentations
During yesterday's proceedings, Williams raised concerns over what he deemed "misrepresentations" of not only the PNC but of the entire commission. Williams read snippets of a report published in the Guyana Chronicle and questioned James on the accuracy of the statements.
"'Yesterday, senior GDF Officer, Lieutenant Colonel Sydney James told the Walter Rodney Commission of Inquiry that the GDF issued those guns to the People's National Congress (PNC) Government in the 1970s, along with hundreds more,'" Williams read.
In response, James maintained that he had never made any such statements and proposed that the records with his correct words be checked.
The citing of the article raised objections by counsel, who noted that reports published by the media could not be controlled by the commission and are no business to the commission and are not evidence. However, Williams retorted that he must put it to James because the statements referred to his evidence. Williams further emphasised the importance of correct representations of all bodies involved in the CoI.
"I'm representing the People's National Congress Reform! Do you not want me to represent them?" Williams challenged. He went on, "I'm representing hundreds of Guyanese! Will you stop me from representing the People's National Congress?"
He said too, "I want the people of Guyana to know that every time the PNC's lawyer has to cross-examine a witness he's interrupted unnecessarily."
"I take umbrage to that!" exclaimed Senior Counsel Jairam Seenath, who later accused Williams of attempting to make "a political speech."
After promising to revisit the subject later in the hearing, Williams said, "I will ask if you consider that the newspaper can continue to distort the work of this commission…This commission must be concerned with its work being misrepresented in certain media."
Infiltration
During his cross-examination of James, Williams also suggested that the GDF had been "infiltrated" by a member of the Working People's Alliance (WPA) or a sympathiser of the party.
His line of questioning arose from statements made by Tacuma Ogunseye during his testimony as well as documents provided by James which were considered to be forged.
In his evidence, Ogunseye had suggested that the WPA had infiltrated the security forces and Williams asked James, "The documents that you have brought to the court…is it unreasonable to accept that those documents could've been made by someone who had infiltrated the army?"
James denied this and once again suggested that persons from the GDF who were still alive could appear before the commission. Williams then suggested that, if a WPA member had not infiltrated the GDF, then perhaps a WPA sympathiser had. However, James said that he was standing by his answer.
Williams believed that any infiltration was an attempt to smear the image of the PNC government. He also opined that inauthentic documents presented by James were created "haphazardly" towards the same means.
James will return to the stand again today and the commission will possibly see the appearance of other witnesses including Father Malcolm Rodrigues.
Comments

UN experts condemn racist violence in U.S., urge investigations GENEVA, (Reuters) – United Nations human rights experts called on the United States today to combat rising racist violence and xenophobia and to prosecute perpetrators of hate crimes.

The twin-engine Beech aircraft seized by authorities on an improvised airstrip on Sunday in the North Rupununi, Region Nine area, was yesterday confirmed as bearing a registration number belonging to an investment company in Brazil.

ExxonMobil yesterday signed a deal with Guyana Shore Base Inc (GYSBI) for an onshore support facility at Houston on the East Bank of Demerara.
While students who sat Caribbean Examination Council (CXC) exams in May and June of this year will be able to access their results online on Friday, the Ministry of Education has already announced that Guyana has recorded a 7% increase in passes at the Caribbean Advanced Proficiency Examinations (CAPE).

A post-mortem examination is expected to be done today to determine the cause of death of a nine-month-old baby, who died on Monday after she was left in a car.