The University of Guyana (UG) in collaboration with the Guyana Post Office Corporation (GPOC) yesterday unveiled a collection of commemorative stamps in observance of UG's 50th anniversary.
UG Vice Chancellor Jacob Opadeyi, in his address to mark the occasion, at the Education Lecture Theatre yesterday, encouraged the public to buy the stamps as they reflect the pride of the university.
Stamps are available in $80 and $150 denominations and can be purchased at all post offices countrywide.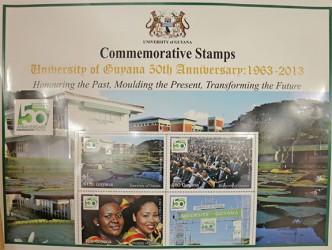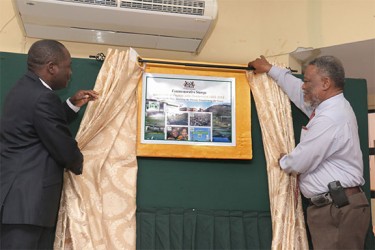 In his remarks, Post Master Mahadeo Rambharose was pleased that UG "has made the GPO a part of this historic event, this is truly history in the making." He said the stamps will circulate both locally and internationally and was confident that they would appeal to philatelists who purchase, sell and store them as valuable collectables.
Meanwhile, Prime Minister Samuel Hinds commended UG on reaching 50 years. He reflected on the transformation and achievements of the university over the years, advising that "the past must not constrain us, one has to break free of the past so as to have a productive future." The prime minister also challenged UG students to "take a peek" into the future and to envision where they would be in 50 years.
Commemorative plaques were also given out to selected members of the audience, during the anniversary observance.
According to a press release from the university, the institution was established in April 1963 and began its operations in October of the same year with a batch of 164 students in temporary premises loaned from Queen's College in Georgetown. It has occupied its current site at Turkeyen since October 1969 and operates another campus at Tain, Berbice. To date, more than 15,000 students have graduated and gone on to successful careers both locally and internationally.
Comments

Mashramani celebrations ground to halt for several families yesterday afternoon, when approximately 30 persons lost their homes after a fire of unknown origin ripped through three Victoria Road, Plaisance properties, including an apartment building.

Minister of State Joseph Harmon says that the US$3 million settlement offer made by Hong Kong Golden Telecom Limited (HKGT) on the outstanding balance for its purchase of government shares in the Guyana Telephone and Telegraph Company (GTT) is being actively considered, but the government's goal is to recover the entire US$5 million that is owed.

Opposition Leader Bharrat Jagdeo on Thursday criticised government and Minister of Finance Winston Jordan on the heels of the announced plan to borrow cash from local banks to reopen two sugar estates and to fund critical current and capital Guyana Sugar Corporation (GuySuCo) programmes.
The private sector is upbeat about the nearly three dozen-odd opportunities recently advertised in the oil and gas sector as it goes some way towards meeting local content needs, according to Private Sector Commission (PSC) Chairman Eddie Boyer.

'Black Panther,' the new Marvel Studios cinematic juggernaut opened in Guyanese theatres to overwhelming support on Thursday evening, which saw a large number of patrons turning out in African cultural display to mark the occasion.