The Institute of Applied Science and Technology has signed a Memorandum of Understanding with the Pinnacle Group to build a facility that would transform biomass waste into pellets and one for power generation.
The three projects to a total value of US$35 million will see the utilisation of Guyana's large level of waste such as bagasse from the production of sugar, paddy husk from milling rice and waste wood created by sawmills.
Director of the IAST Dr Suresh Narine, met President Donald Ramotar and Executive Director of Pinnacle Green Resources PTE Ltd Manu Bansal at the Office of the President yesterday to speak about the projects. He said the first project that should be up and running by March next year is a facility that would produce activated carbon from coconut shells.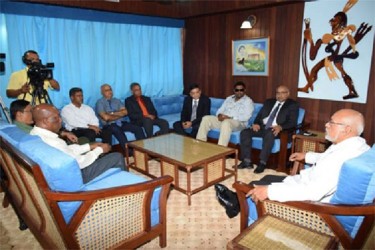 He told members of the media that activated carbon was in high demand locally and internationally in the recovery of gold. The facility will be built on a 5,000 acres plot along the Akamini Creek in the Pomeroon, Region 2 and will produce three tonnes of activated carbon per day.
The public-private partnership will see the government providing the lease of the land to Pinnacle, while IAST will receive five per cent equity across the board for all three projects. No government funds will be spent on the projects and the IAST will provide technical knowledge as well as head the Board of Directors of Pinnacle Green Resource Guyana Ltd.
The production of activated carbon is seen as a vital alternative to mercury use in the mining sector.
The largest individual investment (US$16.5 million) will be for the construction of a facility to produce 200 tonnes of wood-pellets per day for export to Sweden. The company will be utilising 5,000 acres to grow Jumbie Bean (Leucaena leucocephala), which according to Pinnacle's Executive Director produces less than one per cent ash as additional waste.
Tied to the construction of the plant, the IAST will be using mobile units in the collection of waste woods generated from the trimming of logs for export. This project has an 18-month window of completion before operationalisation.
The partnership's final project is the gasification operation which will use biomass from paddy husk and bagasse to aid in an 8 mw generating facility in Guyana. Narine said Guyana has the capability to produce 300 per cent of its diesel demand by using biomass for electricity generation.
According to Narine, once this facility is operationalised, in the next two years it could produce electricity for sale at US$0.19 per kilowatt per hour.
President Donald Ramotar spoke positively of the venture, noting that the Essequibo region which is heavily reliant on the rice industry would see over 300 jobs created within two years.
Ramotar emphasised that the IAST was moving in a progressive manner, highlighting that the commercial ventures being created offered the institute sustainability in the future.
The three projects are estimated to have an annual foreign revenue of over US$20 million while the power generation could result in over US$6 million being saved in annual foreign exchange.
The IAST had recently announced its intention to build a factory to produce its 'Rice Brekkies' cereal which is still to be approved by the Food and Drug Department.
The Pinnacle Group which is based in Singapore and Hong Kong, is said to have operations in Trinidad and Tobago as well as experience with the processing of environmental waste into energy.
Speaking to Stabroek News, Bansal stated that Pinnacle is a subsidiary group created just over a year ago by the Indian Beekay Group of Companies. He said that it was a special interest company, and that the company's website was under construction. Pinnacle Green Resources is not to be confused with the Cana-dian company Pinnacle Renewable Energy Group which has been in the production of softwood pellet fuel for over 20 years.
Comments

Three employees of the New Building Society were today released on self-bail after being arraigned before a Georgetown court on eight counts of unlawful confinement alleged to have occurred at its main branch.

HARARE, Zimbabwe, CMC – West Indies sneaked into next year's World Cup in England but barely, after needing the fortune of Duckworth-Lewis to beat Scotland by five runs in their final Super Six match of the ICC World Cup qualifiers here today.

GENEVA,  (Reuters) – Armed groups execute and torture civilians in Libya in almost complete impunity seven years after the revolution that toppled Muammar Gaddafi, the United Nations human rights office said on Wednesday.

A group of international researchers and petroleum policy advisors will today meet Cabinet ministers to discuss the emerging oil and gas sector and give insight into prudent preparations for the revenues that will be generated from the industry.

A 41-year old mother from Central Amelia's Ward, Linden, died on Monday evening, having reportedly suffered severe haemorrhaging after delivering a 10-pound baby at the Linden Hospital Complex.