TEL AVIV, (Reuters) – An Israeli court convicted former prime minister Ehud Olmert today of accepting a six-figure sum in bribes linked to a real-estate deal, probably ending any prospects of a political comeback.
Olmert, a centrist credited internationally with working towards a peace settlement with the Palestinians, had denied wrongdoing in the Holyland apartment complex deal, which took place while he was in his previous post of Jerusalem mayor.
Two years ago, the veteran politician was acquitted of most of the major charges brought against him in separate cases involving his links to a U.S. businessman – corruption accusations that forced his resignation as premier in 2008.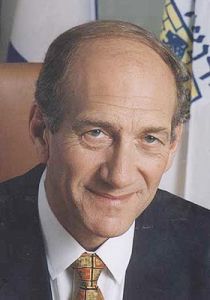 After what was the first bribery conviction of a former head of government in Israel, Olmert, 68, could face up to 10 years in prison.
A former president, Moshe Katsav, has been serving a seven-year prison term for rape since 2011.
Olmert will appeal the verdict, said his spokesman, Jacob Galanti. No date was immediately set for sentencing, and the appeals process is likely to take months to run its course.
According to a summary of Monday's 700-page verdict provided by the Justice Ministry, Judge David Rozen found Olmert guilty of two bribery charges and said he accepted 560,000 shekels ($160,000) from developers of the Holyland project.
Prosecutors had alleged he received more than 800,000 shekels, but he was acquitted on two other corruption charges.
Handing down the verdict in Tel Aviv District Court, Rozen said the case "exposed governance that grew more corrupt and rotten over the years", with bribes paid to public officials.
NETANYAHU CRITIC
In recent months, Olmert has been critical of Prime Minister Benjamin Netanyahu's policies toward the Palestinians and confronting Iran's nuclear programme, fuelling speculation he intended to return to politics.
A lawyer by profession, Olmert began his political career in the 1970s as a legislator who targeted organised crime in Israel.
He served as mayor of Jerusalem from 1993 to 2003 and as prime minister from 2006 to 2009, staying in office in a caretaker capacity until after a general election that brought right-winger Netanyahu to power.
As prime minister, Olmert waged war against militants in Lebanon in 2006 and the Gaza Strip in 2008.
He claimed significant progress in talks with the Palestinians aimed at securing a final peace deal, offering an Israeli withdrawal from much of the occupied West Bank. But no agreement was reached.
Current U.S.-brokered peace talks between the Netanyahu government and the Palestinians have faltered, with Washington struggling to keep negotiations going beyond an original April 29 target date for a deal.
Olmert was among 13 defendants in the Holyland case, which revolved around the construction of a hulking, hilltop housing project widely regarded as Jerusalem's worst eyesore.
One of the accused, Shula Zaken, was Olmert's former long-time aide who last week offered to turn state's witness against him.
Comments

NEW YORK/WASHINGTON,  (Reuters) – President Donald Trump's turnabout on the violence in Charlottesville, Virginia has rocked his administration, leading to rising speculation that some top officials may be looking for a way out.

JOHANNESBURG,  (Reuters) – Zimbabwe's first lady Grace Mugabe has sought diplomatic immunity in South Africa, where she is under investigation over the assault of a 20-year-old model in an upmarket hotel, South African police said yesterday.
PUERTO ORDAZ, Venezuela, (Reuters) – Thirty-seven inmates were killed during an overnight raid by government security forces on a prison in Venezuela's southern jungle state of Amazonas, the governor said yesterday.
NEW YORK,  (Reuters) – The U.S. Department of Homeland Security terminated a programme on Wednesday that allowed minors fleeing violence in El Salvador, Guatemala and Honduras to settle in the United States, ending travel hopes for more than 2,700 children awaiting approval.

LOS ANGELES,  (Reuters) – Tom Cruise broke his ankle on the set of the upcoming "Mission: Impossible 6," causing a halt in filming while the action star known for performing many of his own stunts recovers, Paramount Pictures said on Wednesday.