MINYA, Egypt (Reuters) – An Egyptian court sentenced the leader of the outlawed Muslim Brother-hood and 682 supporters to death yesterday, intensifying a crackdown on the movement that could trigger protests and political violence ahead of an election next month.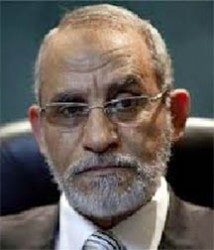 The Brotherhood, in a statement issued in Lon-don, described the ruling as chilling and said it would "continue to use all peaceful means to end military rule".
An Islamist alliance that includes the Brotherhood called on Egyptians to demonstrate against the death sentences in the streets of Cairo on Wed-nesday.
In another case signaling growing intolerance of dissent by military-backed authorities, a pro-democracy movement that helped ignite the uprising that toppled autocrat Hosni Mubarak in 2011 was banned by court order, judicial sources said.
The death sentence for Mohamed Badie, the Brotherhood's general guide, will infuriate members of the group, which has been the target of raids, arrests and bans since the army forced President Mohamed Mursi from power in July.
The United States and the United Nations ex-pressed alarm over the ruling.
Some Brotherhood members fear pressure from security forces and the courts could drive some young members to violence against the movement's old enemy, the Egyptian state.
Islamist militants based in the Sinai Peninsula have stepped up attacks against security forces since Mursi's overthrow, killing hundreds.
Last night, Cairo authorities found two bombs that were planted in the car of an army officer, security officials said.
Badie, considered a conservative hardliner, was charged with crimes including inciting violence that followed the army overthrow of Mursi, who is also on trial on an array of charges.
Around the Web