MEXICO CITY, (Reuters) – Mexico's government yesterday proposed a set of rules tailored toward attracting quick investment to its oil and gas industry as it mapped out how the state would end its domination of the sector.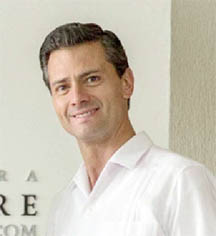 Opting to set a lower bar than regional peers on how much local labor and materials investors will have to use, Mexico gave companies a decade to meet the target as it presented draft legislation to flesh out a radical energy reform from last year.
The reform is the core of President Enrique Pena Nieto's plan to boost economic growth, and his government said "local content" requirements, which aim to strengthen the domestic oil and gas industry, would need to reach an average of 25 percent by 2025.
The so-called secondary laws unveiled yesterday offered a flexible model for the liberalization of the industry, experts said. It is being closely watched by oil majors such as BP Plc and Royal Dutch Shell.
The laws showed content requirements will vary on a case-by-case basis and will be detailed when contracts are put out to tender, all of which the government said would be public.
"They are emphasizing flexibility because they know that the mosaic of opportunities in the country require a different approach," said Jeremy Martin, an energy expert at the University of California San Diego. "It seems they definitely drew from some lessons in Brazil, where you have much higher (content) percentages that are much more rigid."
The content requirements in Brazil are as high as 55 percent for the development phase of the pre-salt offshore fields.
Mexico's government also said yesterday it would cut the tax burden on state oil giant Pemex and guarantee it at least a 20 percent stake of business in deposits in Mexican territory that borders the United States.
Those measures and the local content rules are aimed at ensuring the energy reform benefits Mexico's economy even as it seeks to lure foreign investors that would compete with Pemex.
Still, analysts say a confirmed discovery of a trans-border oil field in the Gulf of Mexico or on the country's northern land border is at least a decade out.
The government will also reduce its involvement in the national electricity utility known as CFE.
Around the Web