BELFAST/DUBLIN, (Reuters) – Northern Ireland police arrested Sinn Fein leader Gerry Adams yesterday as part of an investigation into one of the province's most controversial murders, a move likely to cause a political earthquake in Belfast and Dublin.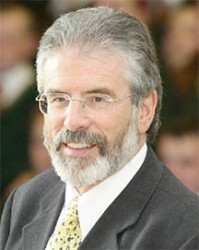 The man reviled in Britain as the spokesman for the Irish Republican Army in the 1980s, Adams reinvented himself as a Northern Ireland peacemaker and then as a populist opposition politician in the Irish parliament.
His Sinn Fein party yesterday said he was being questioned by police investigating the 1972 abduction and murder of mother of 10 Jean McConville. The police said a 65-year-old had been arrested by detectives investigating the killing.
Adams, who has always denied membership of the IRA said he was "innocent of any part" in the killing.
"I believe that the killing of Jean McConville and the secret burial of her body was wrong and a grievous injustice to her and her family," Adams said in a statement.
"Well publicised, malicious allegations have been made against me. I reject these," he said.
McConville's body was found in 2003 on a beach in county Louth, which Adams now represents in Ireland's parliament. McConville had been suspected by the IRA being an informer, a charge her family has always denied.
The investigation into McConville's killing has been revived by the release of a series of interviews given by former fighters from the Northern Ireland conflict to Boston College.
Around the Web