LONDON, (Reuters) – A British judge hailed as a role model was jailed for 16 months yesterday for lying to police about her role in a revenge plot that landed a cabinet minister in prison.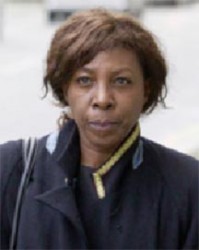 Constance Briscoe, 56, one of the first black women in Britain to be appointed a recorder – a part-time judge – was convicted of three charges of perverting the course of justice at London's Old Bailey criminal court on Thursday.
Local media said she was believed to be the first judge in living memory to have been convicted of such an offence.
"You are an individual who unsurprisingly has been something of a role model to others," said the judge, Jeremy Baker as he sentenced her.
"I am sure that you realise only too well that such conduct strikes at the heart of our much cherished system of criminal justice."
Briscoe was convicted of lying about her involvement in the saga of former minister Chris Huhne and his ex-wife Vicky Pryce, who themselves were both jailed for eight months last year for lying to police in 2003 over which of them had committed a speeding offence.
The scandal ended the political career of Huhne, a senior Liberal Democrat who was energy secretary in Britain's coalition government and once seen as a potential successor to party leader Nick Clegg, the deputy prime minister.
Pryce had revealed to the press the deception over the speeding offence in 2011 in an act of revenge against Huhne after he had left her for his mistress a year earlier.
Briscoe, the author of a best-selling childhood memoir entitled "Ugly" and praised as a role model for overcoming an underprivileged start in life to become a trial lawyer and recorder, had advised Pryce on how to act in a way that would hurt Huhne but not Pryce.
She had initially been lined up to be a prosecution witness in the trial of Huhne and Pryce, but when police found discrepancies in what she had told them, she too was charged with perverting the course of justice.
Around the Web