PORT-AU-PRINCE, (Reuters) – A 12-year-old orphan boy handicapped from birth became the first recipient of a 3-D printer prosthesis in Haiti last month, thanks to a British-born software engineer in California.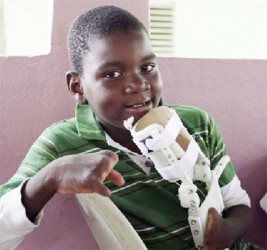 Born without fingers on either hand, Stevenson Joseph had little hope of treatment in a country where programs for the disabled are rare apart from a handful of charities.
Now the 3-D prosthesis fitted to his left hand has given him a whole new range of dexterity, including being able to play catch with his friends for the first time and maybe even enabling him to write one day, according to staff at the home for disabled orphans where he lives.
In 2010, Stevenson was brought to Bernard Mevs hospital in the capital, Port-au-Prince, where an orthopedic team was working to fit prosthetic limbs after a devastating earthquake caused injuries that required amputations.
"We couldn't do anything for him here," recalled Thomas Iwalla, a Kenyan orthopedic technician at hospital.
"Some congenital conditions, like Stevenson's, are pretty hard to tackle. Not even surgery could repair his missing fingers," he said.
Around the Web