NEW DELHI, (Reuters) – Counting of votes began today after India's mammoth election, which could usher in the most profound economic change in a generation if opposition leader Narendra Modi wins a clear mandate for his agenda to revive growth and create jobs.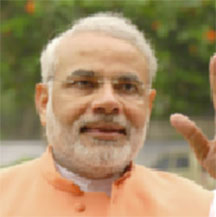 At 8:00 a.m. (0230 GMT) the Election Commission began tallying the 537 million votes cast over five weeks from the shores of the Indian Ocean in the south to the Himalayan foothills in the north.
Early returns showed Modi's Hindu nationalist Bharatiya Janata Party (BJP) leading in 104 seats, up a third from the last general election. The ruling Congress party was ahead in 50, a fall of nearly half, according to NDTV news.
Returns from 989 counting centres were expected to flow in thick and fast, with a clear picture expected by around lunchtime.
If the results of the world's largest exercise in democracy are in line with exit polls, the BJP and its allies will win an absolute majority of more than 272 seats in the lower house of parliament, where 543 seats are at stake.
That would open the way for Modi, 63, to act quickly to form the core of a new government by naming loyalists to the prized cabinet posts of finance, home, defence and external affairs.
Betting on that outcome, foreign investors have poured more than $16 billion into Indian stocks and bonds in the past six months and now hold over 22 percent of Mumbai-listed equities – a stake estimated by Morgan Stanley at almost $280 billion.
But with markets racing higher, anything short of a ringing endorsement for Modi and the BJP-led National Democratic Alliance (NDA) could trigger volatile trading today.
"The bar for the opposition team has risen significantly," investment bank DBS wrote in a note on Thursday.
"Compared with pre-poll surveys where NDA's tally averaged around 250, the average has moved up to 280 in the exit polls. This suggests that if the actual tally is closer to 250-260 seats, the markets might be disappointed."
MODI WAVE
Since being named as his party's candidate last September, Modi has flown 300,000 km and addressed 457 rallies in a slick, presidential-style campaign that has broken the mould of Indian politics.
In so doing, Modi has outclassed Rahul Gandhi – the fourth-generation scion of the Congress party's Nehru-Gandhi dynasty – while burnishing his pro-business record as chief minister of the western state of Gujarat.
Prime Minister Manmohan Singh, who as finance minister launched reforms in 1991 that brought an end to decades of economic isolation, has already bid farewell to his staff after a decade in office marked by mounting policy paralysis.
Modi's mantra of development has won over many voters sceptical about his Hindu-centric ideology and role in sectarian riots in his home state in 2002 in which more than 1,000 people,
mainly Muslims, died. He has denied any wrongdoing and a probe ordered by the Supreme Court has found he had no case to answer.
Exit polls estimate that the BJP's vote share rose by 15 percentage points to 34 percent. Under India's first-past-the-post system, that may be enough for the BJP to take battleground states like Uttar Pradesh – home to one in every six Indians.
 "MODINOMICS"
Modi has promised that, if elected, he would take decisive action to unblock stalled investments in power, road and rail projects to revive economic growth that has fallen to a decade low of below 5 percent.
Around the Web