NEW DELHI, (Reuters) – Narendra Modi thundered to victory yesterday in India's election, trouncing the ruling Nehru-Gandhi dynasty in a seismic political shift that gives the Hindu nationalist and his party a mandate for sweeping economic reform.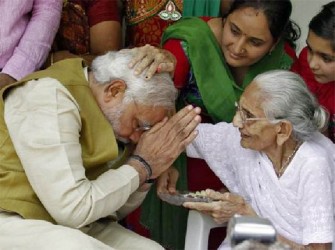 Modi's landslide, the most resounding election victory India has seen in 30 years, was welcomed with a blistering rally on India's stock markets and raucous celebrations at offices across the country of his Bharatiya Janata Party (BJP), where supporters danced, let off fireworks and handed out sweets.
The BJP looked certain of a parliamentary majority, giving the 63-year-old former tea-seller ample room to advance reforms started 23 years ago by current Prime Minister Manmohan Singh but which stalled in recent years.
Speaking to a sea of people dressed in the party's official orange colours and chanting his name in his home state of Gujarat, Modi thanked the nation, and immediately addressed concerns his pro-Hindu leanings would sideline minorities.
"The age of divisive politics has ended, from today onwards the politics of uniting people will begin," Modi said. "We want more strength for the wellbeing of the country … I see a glorious and prosperous India."
Singh's Congress party suffered its worst wipeout, a big boost to Modi's goal of ending the dominance of the Nehru-Gandhi family that has governed for most of the 67 years of independent India.
Singh, whose party looked set to win less than 50 of the 543 parliamentary seats at stake, congratulated Modi with a telephone call. Party president Sonia Gandhi and her son Rahul quickly conceded defeat.
The desire for change has been so strong that voters put aside concerns about Modi's Hindu-centric politics.
"India's economy was in the doldrums. We have hope that he'll lift up the economy, that he'll create jobs," said Shailesh Jha, 29, embracing a jubilant group of friends at the BJP's Delhi headquarters.
Jha echoed the sentiment of those who believed Modi's promises of economic growth to meet the demands of millions of youngsters who reach working age each year and could boost India's productivity if given jobs.
With more than six times the seats of its closest rival, Modi's is the most decisive mandate for a leader since the 1984 assassination of prime minister Indira Gandhi propelled her son to office. Since 1989, India has been governed by coalitions.
Around the Web