SANTA BARBARA, Calif., (Reuters) – A 22-year-old man who killed six people before taking his own life in a rampage through a California college town said in a chilling manifesto that police who knocked on his door last month to check on his welfare nearly foiled his plot.
Elliot Rodger, the son of a Hollywood director, stabbed three people to death in his apartment before gunning down three more victims on Friday night in the town of Isla Vista near the campus of the University of California at Santa Barbara (UCSB).
Rodger, who posted a threatening video railing against women online shortly before his rampage, stalked Isla Vista in his car and on foot, firing on bystanders in a killing spree that ended when he killed himself after a shootout with sheriff's deputies, police said.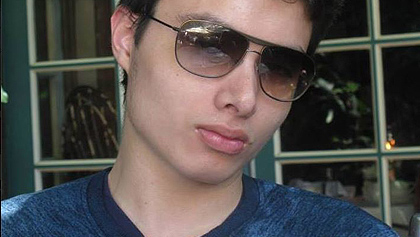 But less than a month before he launched his deadly attacks, after he had planned the killings and obtained the guns he would use, the community college student opened his door to a knock to find about seven officers looking for him.
"I had the striking and devastating fear that someone had somehow discovered what I was planning to do, and reported me for it," Rodger said in a manifesto obtained by California's KEYT-TV, excerpts of which were published by the Los Angeles Times.
"If that was the case, the police would have searched my room, found all of my guns and weapons, along with my writings about what I plan to do with them. I would have been thrown in jail, denied of the chance to exact revenge on my enemies. I can't imagine a hell darker than that. Thankfully, that wasn't the case, but it was so close," he wrote.
He said he learned that videos he posted online had alarmed his mother, and he believed either she or a mental health agency had asked authorities to check up on him.
"The police interrogated me outside for a few minutes, asking me if I had suicidal thoughts. I tactfully told them that it was all a misunderstanding, and they finally left," he said in the manifesto, according to the Times.
"For a few horrible seconds I thought it was all over. When they left, the biggest wave of relief swept over me. It was so scary," he wrote, adding he removed the videos with plans to repost them closer to the date of his planned attack.
In a YouTube video posted shortly before the rampage, a young man believed by police to be Rodger bitterly complained of loneliness and rejection by women and outlined his plan to kill those he believed spurned him.
Santa Barbara County Sheriff Bill Brown has said that Rodger was seen by a variety of health care professionals and it was "very, very apparent he was severely mentally disturbed."
Brown said his department had been in contact with Rodger three times prior to the killings, including for a welfare check in which deputies found him to be polite and courteous. He did not appear to meet criteria to be held involuntarily on mental health grounds, and deputies took no further action, Brown said.
"At the time the deputies interacted with him, he was able to convince them that he was OK," Brown told CBS' "Face the Nation" on Sunday.
"When you read his autobiography and the manifesto that he wrote, it's very apparent that he was able to convince many people for many years that he didn't have this deep, underlying, obvious mental illness that ultimately manifested itself in this terrible tragedy," he added.
KILLINGS BEGAN IN APARTMENT
The killing spree, which closely mirrored plans laid out in his manifesto, appeared to begin in Rodger's Isla Verde apartment, where he stabbed three men to death, leaving behind what Brown described as a horrifying crime scene.
In a plot laid out in writing, Rodger said he planned to first kill his housemates then lure others to his residence to continue his killings, before slaughtering women in a university sorority and continuing his spree in the streets of Isla Vista. Then, he would commit suicide.
He wrote that he also planned to kill his younger brother, "denying him of the chance to grow up to surpass me", as well as his stepmother, who he said would be in the way – killings he did not carry out.
But he did not think he was mentally prepared to kill his father, Peter Rodger, an assistant director on the 2012 film "The Hunger Games", according to the manifesto.
A lawyer for the family, Alan Shifman, said they offered sympathy to those affected by the tragedy, and were themselves "experiencing the most inconceivable pain." Shifman declined further comment on Sunday, and family members of Rodger could not immediately be reached.
In Los Angeles, sheriff's deputies and agents from the federal department of Alcohol, Tobacco, Firearms and Explosives entered the father's home to carry out a search warrant. No one was home at the time.
On Friday night, after killing three people in his residence, Rodger made his way to a nearby sorority house, whose members heard loud and aggressive knocking on the door but did not respond, Brown told a news conference on Saturday.
Shortly afterward witnesses reported seeing Rodger shoot three young women standing outside the sorority house, including students Katherine Cooper, 22, and Veronica Weiss, 19, who died.
Driving to a nearby delicatessen, Rodger entered and shot dead 20-year-old UCSB student Christopher Michael-Martinez before fleeing in his car.
As he drove, Rodger shot at pedestrians, traded fire with police and struck two cyclists before crashing. In addition to those killed, 13 people were wounded, eight of whom were shot.
Officers found Rodger dead of an apparently self-inflicted gunshot wound. In his car were three legally purchased semiautomatic guns, two Sig Sauers and a Glock, and more than 400 rounds of unspent ammunition, Brown said.
He told CBS that there was no evidence Rodger had ever been institutionalized or committed for an involuntary hold of any kind, situations that could have prohibited him from legally buying guns.
Richard Martinez told reporters on Saturday his son Christopher was an English major who wanted to go to law school.
"Why did Chris die? Chris died because of craven, irresponsible politicians and the NRA," Martinez told reporters outside the Santa Barbara County Sheriff's Office, appearing on the verge of collapse. "They talk about gun rights, what about Chris's right to live? When will this insanity stop?"
The National Rifle Association, or NRA, supports the right to own and carry firearms.
The incident follows U.S. mass shootings at schools, shopping malls and military bases. In April, a soldier killed three people and wounded 16 before killing himself in a shooting rampage at Fort Hood Army base in Texas.
The deadliest U.S. mass shooting in modern times was in 2007 when a student at Virginia Tech killed 32 people.
Around the Web