NEW BRUNSWICK, New Jersey (Reuters) – Actor and comedian Tracy Morgan, best known for his roles on 'Saturday Night Live' and '30 Rock,' was badly injured when his limo bus overturned in a multi-vehicle crash that killed another comic in New Jersey early yesterday.
Morgan, 45, was in critical condition in an intensive care unit at a hospital in New Brunswick, New Jersey, police and his spokesman said.
The comedian James McNair, also known as Jimmy Mack, was killed in the crash on the New Jersey Turnpike, police said. McNair, who was 63 and lived in Peekskill, New York, was riding in the limo bus with Morgan.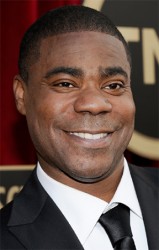 At least three other people were hospitalized following the crash, according to authorities.
Morgan was part of a stand-up comedy 'Turn it Funny' tour and had performed at a Dover, Delaware, casino on Friday night. The crash occurred around 1 am local time yesterday near Cranbury Township when a tractor-trailer crashed into the back of Morgan's limo bus, New Jersey State Police spokesman Gregory Williams said, based on findings of a preliminary investigation.
The driver of the truck, 35-year-old Kevin Roper, was charged with one count of death by auto and four counts of assault by auto, the Middlesex County Prosecutor's Office said.
After the collision, involving another tractor-trailer, a sports utility vehicle and two other cars, the limo bus was on its side, Williams said.
Morgan, along with others who suffered injuries, were taken by helicopter to Robert Wood Johnson University Hospital Center in New Brunswick, Williams said. Morgan's spokesman said he would remain there yesterday.
"His family is now with him and he is receiving excellent care," spokesman Lewis Kay said in a statement. "We don't anticipate much of a change in his condition today."
One of the best-known black comedians in the United States, Morgan found humour in the often fraught realm of race relations.
Around the Web