BAGHDAD, (Reuters) – Special forces loyal to Iraqi Prime Minister Nuri al-Maliki were deployed in strategic areas of Baghdad last night after he delivered a tough speech indicating he would not cave in to pressure to drop a bid for a third term, police sources said.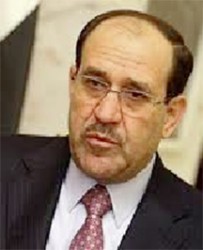 Pro-Maliki Shi'ite militias stepped up patrols in the capital, police said. An eyewitness said a tank was stationed at the entrance to Baghdad's Green Zone, which houses government buildings.
In a speech on state television, Maliki accused Iraq's Kurdish President Fouad Masoum of violating the constitution by missing a deadline for him to ask the biggest political bloc to nominate a prime minister and form a government.
"I will submit today an official complaint to the federal court against the president of the Republic for committing a clear constitutional violation for the sake of political calculations," said Maliki.
Serving in a caretaker capacity since an inconclusive election in April, Maliki has defied calls by Sunnis, Kurds, some fellow Shi'ites, regional power broker Iran and Iraq's top cleric for him to step aside for a less polarising figure.
Critics accuse Maliki of pursuing a sectarian agenda which has sidelined Sunnis and prompted some of them to support Islamic State militants, whose latest sweep through northern Iraq has alarmed the Baghdad government and its Western allies.
Washington seems to be losing patience with Maliki, who has placed Shi'ite political loyalists in key positions in the army and military and drawn comparisons with executed former dictator Saddam Hussein, the man he plotted against from exile for years.
The United States voiced its support for Masoum after Maliki, whom Washington has blamed for stoking Iraq's security crisis, criticised him.
"We reaffirm our support for a process to select a prime minister who can represent the aspirations of the Iraqi people by building a national consensus and governing in an inclusive manner," Deputy State Department Spokeswoman Marie Harf said in a statement.
"We reject any effort to achieve outcomes through coercion or manipulation of the constitutional or judicial process," Harf said, adding that the United States "fully supports" Masoum in his role as the guarantor of Iraq's constitution.
U.S. President Barack Obama urged Iraqi politicians on Saturday to form a more inclusive government that can counter the growing threat from the Islamic State.
But Maliki keeps digging in.
"Now we can see unprecedented deployment of army commandos and special elite forces deployed in Baghdad, especially sensitive areas close to the green zone and the entrances of the capital," one of the police sources said.
"These forces are now taking full responsibility of securing these areas of the capital."
Around the Web