LANGLEY, Va., (Reuters) – CIA Director John Brennan said yesterday some agency officers used "abhorrent" methods on detainees captured following the Sept. 11 attacks and said it was "unknowable" whether harsh interrogation techniques yielded useful intelligence.
With his agency under fire in the aftermath of a U.S. Senate report detailing the CIA's use of torture on detainees after the 2001 attacks, Brennan rejected the report's conclusion that the agency had deceived the White House, Congress and the public about its interrogation program.
"Our reviews indicate that the detention and interrogation program produced useful intelligence that helped the United States thwart attack plans, capture terrorists and save lives," Brennan told a news conference at the agency's Virginia headquarters.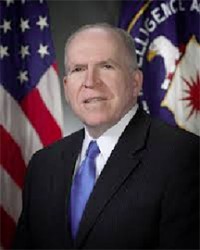 "But let me be clear. We have not concluded that it was the use of EITs (enhanced interrogation techniques) within that program that allowed us to obtain useful information from detainees subjected to them," Brennan said.
"The cause-and-effect relationship between the use of EITs and useful information subsequently provided by the detainee is, in my view, unknowable," he added.
The program was run under President George W. Bush. Senior officials from that administration have defended the methods, which President Barack Obama barred when he took office in 2009. Former Vice President Dick Cheney said in 2009 the methods were "absolutely essential in saving thousands of American lives and preventing further attacks against the United States."
Brennan made an appeal to move on from the controversy over past CIA actions.
"We know we have room to improve," Brennan said.
"In light of the fact that these techniques were abandoned seven years ago, however, my fervent hope is that we can put aside this debate and move forward to focus on issues that are relevant to our current national security challenges," he added.
The Intelligence Committee's report found that the CIA acted more brutally and pervasively than it has acknowledged.
Some captives were deprived of sleep for up to 180 hours, at times with their hands shackled above their heads, and the report recorded cases of simulated drowning, or "waterboarding," and sexual abuse, including "rectal feeding" or "rectal hydration" without any documented medical need.
Around the Web