PORT LOUIS, (Reuters) – Mauritius voters rejected plans to grant more powers to the president by handing an election victory to a coalition that opposed changing the constitution, electoral officials said yesterday.
The coalition of the Militant Socialist Move-ment (MSM) and the Parti Mauricien Social Demo-crate (PMSD) had secured 47 of the 62 contested seats by 6.13 p.m. (1413 GMT), while the ruling Labour Party and an ally that backed the change had just 13.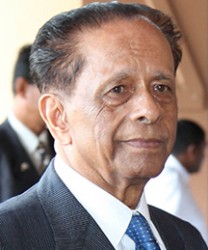 With just a dozen constituencies still to declare on the Indian Ocean island, the MSM-PMSD lead was unassailable.
Labour, led by Prime Minister Navinchandra Ramgoolam, and its ally the Mauritian Militant Movement (MMM) had called for power to be apportioned between the president, now a largely ceremonial post, and the premier, who currently holds sway.
"Today the population has rejected the plan of our opponents to amend the constitution," said MSM-PMSD leader Anerood Jugnauth, now expected to become the next prime minister.
"Had this materialised, it would have been a catastrophe for the country," the 84-year-old, who has previously been both president and premier, said after his constituency win.
Around the Web