TUNIS (Reuters) – Veteran Tunisian politician Beji Caid Essebsi won the country's first free presidential election in the final step of a transition to democracy after an uprising that ousted autocrat Zine El-Abidine Ben Ali in 2011.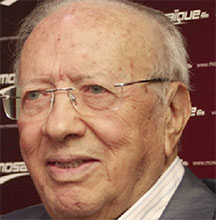 Essebsi, a former Ben Ali official, beat rival Moncef Marzouki with 55.68 per cent of the vote against 44.32 per cent in Sunday's run-off ballot between the two men, according to results released yesterday by electoral authorities.
Both candidates called for calm after rioting briefly broke out in several southern towns in protest over the return of an old guard figure, and witnesses said an office of Essebsi's Nidaa Tounes party was set alight in one town.
A former parliament speaker under Ben Ali, Essebsi recast himself as an experienced technocrat. His secular party Nidaa Tounes – Call for Tunisia – profited from a backlash against the post-revolt Islamist government, which many voters blamed for turmoil after 2011.
"I will be president for all Tunisians," Essebsi said in a brief speech on state television.
Outside the Nidaa Tounes headquarters in the capital Tunis, several hundred jubilant supporters took to the streets to celebrate with flares and music, waving Tunisia's red and white national flag and honking car horns.
"He's the right man for the right time," said government finance specialist Sana Ben Said at the Essebsi rally. In a short television address Marzouki accepted his defeat despite what he said were suspected vote irregularities, which he would not challenge.
Just after results were announced, protesters set fire to a Nidaa Tounes party office in Tataouine in southern Tunisia, witnesses said. Residents said rioting broke out in several southern towns, including Hamma, where police firing teargas to disperse hundreds of youths who burned tyres to demonstrate.
Critics of Essebsi, an 88-year-old who has spent five decades in Tunisian politics, see his return as a setback for the 2011 uprising that ousted Ben Ali and put the North African country on the road to full democracy, with a new constitution and free parliamentary and presidential elections.
The Tunisian uprising also inspired the Arab Spring revolts across North Africa and the Middle East. US President Barack Obama and US Secretary of State John Kerry congratulated Essebsi on his victory and Tunisia on its conclusion of the first presidential election under the new constitution, according to US statements.
"Tunisia has provided a shining example to the region and the world of what can be achieved through dedication to democracy, consensus, and an inclusive political process," Kerry said.
Around the Web