UNITED NATIONS, (Reuters) – The United Nations informed the Security Council yesterday that rival factions in Libya have agreed "in principle" to hold a new round of peace talks aimed at ending the escalating political crisis early in the new year.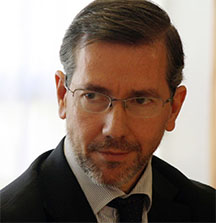 The world body had planned to hold a second round of talks last week to end a confrontation between two rival governments and parliaments, but it said a military escalation was undermining its efforts.
The new talks have been repeatedly delayed due to difficulties getting the parties to agree to meet.
U.N. Special Envoy Bernadino Leon briefed the 15-nation Security Council via video link.
"He (Leon) said he had agreement 'in principle' that talks would start on the 5th," a diplomat who attended the closed-door meeting said on condition of anonymity. "He also set out three key issues for a roadmap – a national unity government, stabilizing the country through cease-fires of militias and a new constitution."
Chad U.N. Ambassador Mahamat Zene Charif, council president this month, confirmed the Jan. 5 date, adding that council members expressed concern about the continued fighting and flow of weapons into Libya.
Charif noted that Leon said the parties had agreed on the roadmap. A U.N. official told Reuters that getting the various factions to meet was like "herding heavily armed cats."
Libya has had two governments and parliaments competing for legitimacy since a group called Libya Dawn seized the capital in August, installing its cabinet and forcing the government of recognized Prime Minister Abdullah al-Thinni to the east.
Around the Web