Gold medallist at last year's World Sub Juniors and Junior Men's power lifting championships, Gumendra Shewdas has been banned for two years and stripped of his achievement following positive tests for banned stimulants.
The 18-year old Berbician achieved the status of Guyana's youngest world champion after lifting gold at the championships in Killeen, Texas last August. His urine sample which was taken during the competition tested positive for Methylhexanamine and Oxilofrine.
The two stimulants were found in the 'A' sample by the World Anti-Doping Agency (WADA) accredited laboratory in Cologne, Germany on October 21.
In late November, the Guyana Amateur Powerlifting Federation (GAPF) was officially notified of the findings but Shewdas who also captured gold medals at the Caribbean and Pan American Championships in July waived his right to have a 'B' sample analyzed.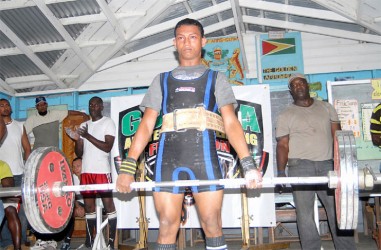 Following the waiver of his 'B' sample and accepting the results of the initial tests, the IPF imposed a mandatory two-year ban on Shewdas for violating the anti-doping rules.
Implications
With the positive tests for the blacklisted stimulants, the GAPF was fined 2000 Euros and has 60 days to make the payment.
Shewdas yesterday told Stabroek News that he did not knowingly take the banned stimulants which were allegedly in a cold medicine.
"To my knowledge I did not take anything that was banned" said Shewdas. "I took a cold medicine like three days before the competition and that thing that they banned was in there and I did not know what was inside."
Asked about his future in the iron sport, the pint-sized strong man from Line Path, Corentyne said that he will "continue powerlifting after the ban because I like the sport and like I said I did not know the stuff was in the medicine so I will know better next time."
For his then historic feat, Shewdas was rewarded with a plaque and $500,000 from the Indian Arrival Committee (IAC). Quizzed on whether the IAC will rescind the reward, executive member, Neaz Subhan told this publication yesterday that he will not comment on the matter just yet since himself and other committee members "have not decided what to do, but we will meet soon to discuss the findings."
Unanswered Questions
There are many unanswered questions surrounding Shewdas' positive tests such as what are the implications for the sport and sponsorship?  It will also raise the question of testing of athletes here for banned substances. When contacted for comments, President of the GAPF, Peter Green stated that he "will call a press conference in due time" while Minister of Sport, Dr. Frank Anthony said he will discuss the matter today.
Methylhexanamine is a stimulant that has moved up the banned list in the WADA. It is used mainly as a fat burner. It was first created to be used as a Nasal Decongestant, but its fat burning potential was discovered and soon found its way into many brand name supplements.
Oxilofrine is a stimulant of the amphetamine class that was developed to treat hypotension (low blood pressure) in people who do not respond to conventional treatment. Oxilofrine is thought to increase adrenaline production, boosting endurance, focus, alertness and heart rate and increasing oxygenation of the blood.
Oxilofrine is found in its anti-doping code in "stimulants: section S6" in section "b: specified stimulants". WADA states: "A specified substance is a substance which allows, under defined conditions, for a greater reduction of a two-year sanction when an athlete tests positive for that particular substance."
It goes on to say: "Specified substances are not necessarily less serious agents for the purpose of doping than other prohibited substances, and nor do they relieve athletes of the strict liability rule that makes them responsible for all substances that enter his or her body.
However, there is a greater likelihood that these substances could be susceptible to a credible non-doping explanation."  Oxilofrine is the same substance that Tyson Gay was banned for.
Comments

Yesterday, in perfect conditions for racing at the National Park, Paul DeNobrega sprinted off with the spoils of the feature 35-lap event of the fifth Banks DIH's Non-Alcoholic 11-race programme.
Back Circle will battle Tigerbay, while Future Stars will oppose ESPN in the semifinal round, following quarter-final wins on Friday, in the 3rd Annual Xtra Beer 'Ballers in the Summer' Street Football Championship.

The Guyana Amazon Warriors' horror run in this year's edition of the Caribbean Premier League (CPL) continued yesterday, as they crumbled to yet another defeat, this time falling by seven wickets to top of the table Trinbago Knightriders at the Guyana National Stadium, Providence.

BIRMINGHAM, England, CMC – West Indies suffered a humiliating innings and 209-run defeat in the historic day/night opening Test after losing 19 wickets in a devastating capitulation on Saturday's third day at Edgbaston.
Guyana's Men's and Women's teams will have the opportunity to be crowned as Caribbean Champions when the NLA XXV Senior Caribbean Squash Championships conclude today in Kingstown, St.