GAPF contemplating fining Shewdas 2000 Euros
Imposing a fine of 2000 Euros on disgraced power lifter, Gumendra Shewdas was one of the topics of discussion when executive members of the Guyana Amateur Power lifting Federation (GAPF) convened for their monthly meeting recently.
The 2000 Euros is the same amount the federation was fined and given 60 days to pay in late November by the International Power lifting Federation (IPF) after the gold medalist at the World Sub Juniors and Juniors Men's Championships, 'A' sample of urine tested positive for Methylhexaneamine and Oxilofrine on October 21 at the WADA accredited laboratory in Cologne, Germany.
Following the positive tests for the banned stimulants, the 18-year-old, who became Guyana's youngest world champion in August at the championships in Killen, Texas, was stripped of his achievement and banned for two years while the fine was imposed on the GAPF.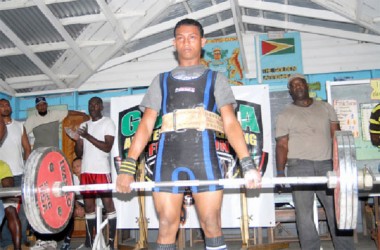 According to Public Relations Officer (PRO) of the federation, Denroy Livan, "we are working to impose a fine, we had discussions and we are looking to penalize Shewdas for the sum we were fined for by the IPF."
Livan also told this publication yesterday that the GAPF will also look to sanction Shewdas' coach, Egbert Jackson.
The federation's PRO also revealed that the annual novices' championships and the GAPF's AGM were also discussed during the meeting.
Livan stated that the AGM is scheduled for February 9 while the novices' championships will be staged on March 2.
While the venues for those events are yet to be known, Livan stated that all the electoral posts will be up for contention.
Notes: For his then historic feat, Shewdas was rewarded with a plaque and $500,000 from the Indian Arrival Committee (IAC). 2000 Euros amounts to approximately $551,000. (Emmerson Campbell)