PORT-OF-SPAIN, Trinidad,  CMC-Trinidad and Tobago top cyclist Njisane Phillip is showing signs of improvement in California, USA, after being hospitalised on Friday with stomach pains, his step father Phillip Whiteman has said.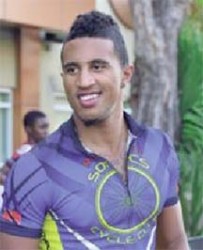 Njisane, who was warded at the California Hospital Medical Center, was moved to a specialist hospital on Tuesday for further examinations.
Doctors were scheduled to do more tests in an effort to determine the cause of Phillip's illness.
Local media quoted Whiteman as saying the pain had eased and that Njisane is more comfortable after taking antibiotics.
Whiteman and Njisane's mother, Vere Whiteman were due to leave Trinidad yesterday to visit him in California.
This incident has delayed Phillip's preparations for the UCI Cycling World Cup leg three in Guadalajara, Mexico, carded for January 17-19.
He won silver in the men's sprint event at leg one of the World Cup in England from November 1-3, becoming the first T&T cyclist to win a medal at the Cycling World Cup.
A month later at leg two of the World Cup in Aguascalientes, Mexico, Njisane did not win any medals, but performed creditably, breaking his own national record.
Comments
Colts secured wins over Kobras and Plaisance Guardians in the Open and U-23 Divisions, respectively, when the Georgetown Amateur Basketball Association (GABA) League Championship continued on Sunday, at the Burnham Court, at Carmichael and Middle streets.

LONDON, (Reuters) – The gradual decline of West Indian cricket is hardly a new phenomenon but the latest capitulation of a once-dominant test match power has brought genuine expressions of sadness throughout the sport.

LONDON, CMC – The fallout from West Indies' humbling innings defeat to England in the opening Test weekend has continued with several of the Caribbean players slumping in the latest International Cricket Council rankings.
Upper Demerara Football Association (UDFA) and Essequibo/Pomeroon Football Association secured easy wins when the UDFA GT Beer Inter-Association Championship continued on Sunday, at the Mackenzie Sports Club ground, Linden, UDFA downed East Coast Football Association 3-1.

(Reuters) – England's Stuart Broad wants to play in the home Ashes series against Australia in 2019, the paceman has said after passing Ian Botham to take second place on the country's all-time list of test wicket-takers.