Mahendra Persaud lauds Yassin for commitment to rifle shooting
- Team looking to do well at Commonwealth Games
The Guyana National Rifle Association (GNRA) in collaboration with the Guyana Olympic Association (GOA) yesterday officially launched a two-week training stint headed by Great Britain's Ian Shaw with the aim of improving the techniques of the local riflemen.
At a press conference conference at Olympic House, High Street, yesterday, Shaw, GOA president K.A Juman-Yassin and national full-bore captain Mahendra Persaud, gave insights as to what Guyana can expect during and after the two week stint concludes.
"We are looking to do is to look at individual performances of individual shooters and also look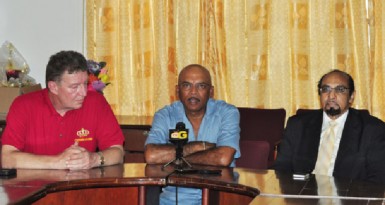 at the team as a whole and to address areas which need work that were already identified, " Shaw said.
The sessions are intended to cover all areas including team building and improving the entire outlook of the each individual marksman in the country.
The participants were also put through their paces via an electronic Scatt Training System, used to technically assess and tune the riflemen and their techniques and also analyse the various elements of what the shooters are doing.
Persaud lauded the GOA for the making Shaw's participation a pivotal one for the local fraternity and especially thanked Yassin for his commitment to ensuring that Guyana receive coaching from one of the best in the sport.
Yassin noted that the rifle shooting is essential for Guyana as it is an important component of the Commonwealth Games.
"We have been doing well in rifle shooting and hope that with the input with Mr. Shaw that our team would be able to rise higher than what they have been doing," he said.
He also stated that he was also looking forward to more co-operation from other members of the Great Britain Rifle Shooting fraternity.
Most Read This Week