Former Golden Jaguar stalwart and current Slingerz FC Coach Charles Pollard is questioning Gregory 'Jackie Chan' Richardson's omission from the Golden Jaguars national team, saying his vast knowledge and game-changing play would be an asset to the team.
"I am upset with the omission of Gregory Richardson. He has been one of our better players for the last generation. Despite what people might think about his attitude,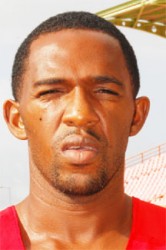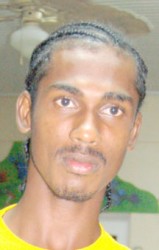 he gives 150 per cent in work rate and training," Pollard said, in an exclusive interview with Stabroek Sport.
Asked if Richardson's perceived attitude may have contributed to his current omission, Pollard said, "Don't blame a man for asking and questioning things. At the last World Cup Qualifiers, he was the best player and he is only 30. I think the present staff come with premeditated decisions on certain players."
"He is one of the players who can turn a game around and he is probably the best player in Guyana. If we don't have coaches who can deal with these players with high knowledge, then we got to get new coaches," the coach said. "People come with their intention of not giving him a chance. You got to give him a chance because of what he can do for this country. If you are looking for development, he is in the prime of his career. I want answers as to why he is not in the team."
Pollard also said it would be disastrous if Richardson is not selected for national honours as he has a vast knowledge of the game. "Everyone got their ways but he could play despite his [indiscipline]. If you never dealt with someone, you can't just ridicule them. It's the national team you are talking about and he has been doing it long for us. Let the best players play," he said.
Comments

Guyana Amazon Warriors left a packed house heartbroken after folding to the Jamaican Tallawahs by two runs in a thrilling final over, as they began their home leg of this year's Caribbean Premier league (CPL) with a school boyish display, last evening at the Guyana National Stadium, Providence.

DUBAI, England, CMC – Reigning champions West Indies Under-19s will be part of history, when they kick off their title defence of the ICC Youth World Cup (YWC) against hosts New Zealand Under-19s.

Guyana ended their Group-F campaign in the CONCACAF Boys U15 Championship on a winning note, edging St.

BIRMINGHAM, England, CMC – A day that started brightly ended in typical uncertainty for West Indies, after Alastair Cook and Joe Root plundered hundreds to give England an early hold on the historic first Test on Thursday.
BASSETERRE, St. Kitts, CMC – A strong all-round performance from Javeor Royal propelled Jamaica Under-19s to a four-wicket victory over ICC Americas Under-19s in the Regional One-day youth tournament on Thursday.