Peter Abdool, president of the Guyana Boxing Board of Control (GBBC) and the Caribbean Boxing Federation (CABOFE), has issued a statement conveying his condolences to the family and friends of long standing president of the World Boxing Council (WBC), Jose Sulaiman who passed away on Thursday.
"It is with the deepest sadness that I was advised of the passing of Jose Sulaiman, President of the World Boxing Council on Thursday in Los Angeles, where he had been hospitalized since October with a heart condition. He was 82.
"The Guyana Boxing board of Control joins with the WBC Caribbean Boxing Federation in offering our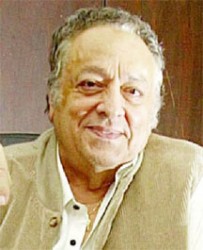 deepest condolences to the Sulaiman family and the WBC Board Of Governors, the WBC Federations and the WBC extended family," the release stated.
"Jose Sulaiman was a towering figure in the world of boxing whose absolute dedication to the sport, concern for the well being of boxers and tremendous empathy with the poor and underprivileged forever changed the way in which the sport is conducted
"His tremendous positive impact on the sport of boxing is immeasurable and his inspirational leadership will be greatly missed in boxing circles around the world.
"On a personal note, he was a mentor and a friend and a man for whom I had great admiration and the highest possible regard. I believe that he shall always be the light of the WBC," Abdool declared in his statement.
The WBC also issued a statement: HE DID IT HIS WAY
"Jose Sulaiman will be remembered as a man of integrity, honorability and pure heart. Inspired by his heroes, believed in unbreakable values and principles and lived a life to the fullest and he did it his way, as Frank Sinatra would sing on "My Way".
Always successful, a natural leader who would never give up, "there are no impossible tasks, some just take a bit longer". That was the spirit of Don Jose. His life dedicated to the service of others, inspired by his parents education and example, led to a life full of satisfactions, he took tremendous joy by helping others, specially the underprivileged and the discriminated.
Many call him the father of boxing; he certainly treated all fighters as his sons and daughters, he suffered from their problems and worked every single day of his life to try to make boxing better and safer.
Regardless if the boxer was an amateur or if he was Mike Tyson or Chavez, he would treat them the same and would relentlessly try to help each one at all times.
Nelson Mandela inspired him to fight against discrimination, battled Apartheid and always struggled to prevent the abuse of power, which hurt the lesser gifted. He led many actions towards dignifying the sport of boxing, the female practice of boxing and the justice for trainers, managers, promoters and specially boxers.
Pope John Paul II inspired him to be a better human being every day and to be humble, to serve and love.
Pope Francis brought faith back to him in these few months as God's representative on earth and the Virgin of Guadalupe remained by his side at all times while Jesus Christ was his greatest guide and inspiration.
Our dear father fought the last 12 rounds of his life, inspired by his hero Muhammad Ali, his corner formed by many doctors, nurses, care partners, therapist, lift team and staff at 7ICU at UCLA and with thousands cheering him from all over the world…
The final bell rang; Jose Sulaiman, winner by unanimous decision!"
Comments

A resurgent Guyana Amazon Warriors side completed a comprehensive seven wickets victory over the out-of-sorts St Lucia Stars to cruise to their second consecutive home win in the Caribbean Premier League (CPL) at the Guyana National Stadium, Providence, last evening.

BARCELONA,  (Reuters) – Barcelona are suing Neymar for 8.5 million euros ($10.00 million) for breach of contract as they want him to return the bonus he was paid when he signed a new five-year deal just nine months before joining Paris St Germain, the Spanish club said yesterday.
(Reuters) – Cristiano Ronaldo will have to serve his five-match ban for pushing a referee after the Spanish sports court (TAD) rejected Real Madrid's appeal against the length of the suspension, Spanish media reported yesterday citing court officials.

A 90th+3 minute strike secured Western Tigers a 1-1 draw with Georgetown Football Club (GFC), when the Corona Beer Invitational Football Championship continued on Monday at the GFC ground, Bourda.

Despite concluding the CONCACAF u15 Boys Championship with only one victory from four matches, Guyana Football Federation (GFF) President Wayne Forde said, he is delighted with the team's overall performance.