International Boxing Association (AIBA) accredited referee/judge, James Beckles urged the 14 participants of his five-day workshop which concluded yesterday to work together to ensure a high standard of officiating is maintained locally.
During the closing ceremony of the workshop yesterday at the Guyana Olympic Association (GOA) building, Beckles also opined that "the course was a very good one, the participants were very receptive and I must say it was real camaraderie and a great sense of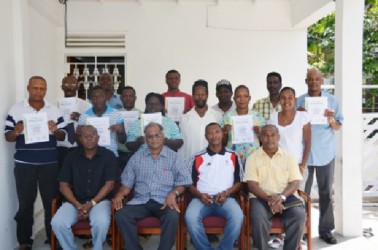 oneness amongst the referee which I hope will continue."
Beckles gave lectures and practical demonstrations on the use of the electronic scoring system that the Guyana Boxing Association (GBA) received from AIBA while at the World Boxing Championships in Kazakstan last October.
He also mentioned that "Guyana is among the first countries in the entire Caribbean to have used and to have been trained with the new computerized 10-point must system.
It is quite fortunate that your referees were able to work with the system yesterday (Saturday) and in most cases got the scoring correct so I must congratulate you on that."
AIBA's accredited referee/judge however intimated that knowledge of the new scoring method will have to go beyond just the participants.
"One thing we discovered on this course was that getting adjusted to the new AIBA rules is I think a concern for everyone not just the referee and judges.
It was good that we started off with the referee and judges but like I explained before, implementing it in Guyana now means that you have to educate your boxers, your coaches and the people who come to watch boxing because they may see some decisions and ask what is going on there with the new type of scoring because the way the audience saw it before maybe isn't the way it is now."
The Trinidadian who was on his third visit to Guyana also thanked the GBA for accommodating him during his stay.
President of the GBA, Steve Ninvalle, thanked Beckles for his services and also invited him to be a part of the three-day Goodwill International Competition which will be hosted here from February 14.
Ninvalle also stated that "today I think that boxing has scored a knockout in Guyana.
It is very important that we have such seminars because we need to widen the information highway that we have, we need to make sure that we are continuously fed information of the right quality if we are indeed to push this sport any further."
The GBA head added "I do hope whatever was learnt by the participants will be applied whenever they are competitions here in Guyana."
Meanwhile Director of Sport, Neil Kumar congratulated the participants and encouraged them to be fair in their rulings and make the best use of their newly imparted knowledge.
Kumar also pledged the National Sports Commission (NSC) support for the fistic sport and revealed that the NSC is in the process of purchasing a new ring for the GBA.
Notes: Three of the 14 participants of the five-day workshop were women, Nicola Yhap, Paulette Nurse and Romona Agard. Leonard Wilson, Wayne Harris, Mark Drakes, Jermaine Craig, Eustace Cuffy, Colin Waddle, Marcelle Daniels, Nigel Hope, Keith Norville, Richard Braithwaite and Elton Chase were the male participants. Chase gave the vote of thanks to Beckles.
Comments

Guyana Amazon Warriors left a packed house heartbroken after folding to the Jamaican Tallawahs by two runs in a thrilling final over, as they began their home leg of this year's Caribbean Premier league (CPL) with a school boyish display, last evening at the Guyana National Stadium, Providence.

DUBAI, England, CMC – Reigning champions West Indies Under-19s will be part of history, when they kick off their title defence of the ICC Youth World Cup (YWC) against hosts New Zealand Under-19s.

Guyana ended their Group-F campaign in the CONCACAF Boys U15 Championship on a winning note, edging St.

BIRMINGHAM, England, CMC – A day that started brightly ended in typical uncertainty for West Indies, after Alastair Cook and Joe Root plundered hundreds to give England an early hold on the historic first Test on Thursday.
BASSETERRE, St. Kitts, CMC – A strong all-round performance from Javeor Royal propelled Jamaica Under-19s to a four-wicket victory over ICC Americas Under-19s in the Regional One-day youth tournament on Thursday.