Dover makes strong case for appointment as GFF head coach
Alpha United head coach Wayne Dover said yesterday that he is the most experienced and qualified person to be named head coach of the
National football team known as the Golden Jaguars.
"Given my resume in terms of the win/loss ratio and proven over the years as a good record for both club and country, the evidence is there to support my claim that I am the best candidate for the job," Dover told Stabroek Sport yesterday via telephone during an exclusive interview.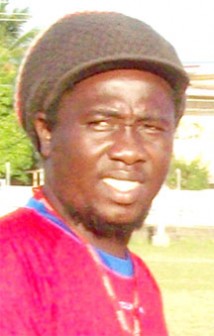 According to the Dover, he possesses an English FA B-license with a B-grade and UEFA Preparatory A-License certificate along with other international and local coaching accolades to support his case for appointment.
He stated that he has been a part of the national set  up since 2004 and has participated in over 83 international games at various levels in  men's, women's, U-23 and U-20 divisions.
Dover said that he has been involved in 63 international senior male fixtures in the capacity of head coach and assistant coach which encompassed World Cup qualifiers, Caribbean and Digicel Cup campaigns and international friendlies.
He noted that his current senior male record stands at 35 wins, 21 losses and seven draws.
"According to statistics and if I am being measured with the rest of the coaches in Guyana through international experience and exposure, clearly I am superior to them by miles," added Dover.
"Under me Guyana achieved its highest two rankings which were 86th and 90th positions. Under me Guyana won its first ever senior international tournament which was the Independence Cup in Suriname," Dover added.
Questioned if his club's (Alpha United) local domination should support his case for the position, Dover said: "One of the important things is that my international record is out there to be scrutinized by the public and pundits. It proves that I am not only successful on local shores as is being touted by many who advocate that my success as a coach is because Alpha has some of the best players in Guyana."
He stated that his international club record stands at seven wins, seven losses and seven draws.
"I challenge them to do the scrutinizing of both my international club and national team records which will prove that I am not being covered by Alpha in terms of being successful as a coach." He asked: "Do you remember Alpha brought third in the Caribbean Football Union Club championship and qualified for the CONCACAF Champions League playoff round, which by any mean remarkable by any side in the history of Guyana?
"I have proven with Alpha on both the international and local scene that I am a force to be reckoned with. So on this note I say without any fear, that I am the best candidate to coach the Golden Jaguars at the young age of 40 with all this experience," said Dover.
"In my international sojourn I have coached against Colombia, Panama, Guatemala, Cuba, Costa Rica, El Salvador and Mexico who are some of the powerhouses in CONCACAF and South America.
"I am a veteran of three FIFA World Cup campaigns in 2006, 2010 and 2014 and a combined four Caribbean and Digicel Cup Championships which has made me the most experienced and exposed coach in the history of Guyana."
Most Read This Week