Once good weather prevails, local Track and Field athletes can look forward to an action packed 2014.
So said president of the Athletic Association of Guyana (AAG), Aubrey Hutson while rolling out this year's calendar of activities.
"We have come to the realization that the essence of athletics is in competition so what we are going to do is make sure we have an action packed calendar but in a structured way," Hutson told Stabroek Sport on Thursday.
Expounding, he added: "With the hope that we have good weather, it is going to be a packed year for our athletes. There is going to be a lot of competition, our calendar is packed, the Boyce/ Jefford Organisation had one meet last year, this year they are asking for four."
According to Hutson, besides the annual Boyce/ Jefford Classic, the budding organization…. "has asked permission to do a Golden Mile, a 5Km and they also want to do a Relay Festival."
Before those activities run off however the athletic season will commence with the staging of a Cross Country on Sunday in Berbice.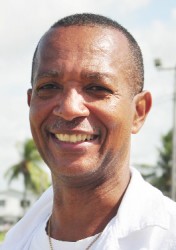 "The New Amsterdam Track Club will be hosting the first Cross Country for the year in Berbice on the 26th of January," said Hutson.
"That will be followed by the Senior Championships which will be held on the 1st and 2nd of February at the Enmore Community Centre Ground.
"We are holding these championships so early because this is last year's championships basically; we didn't have one last year.
"We must do one before our reporting period to the IAAF (International Amateur Athletics Federation) which is in March so we will have two of them this year and the other one will be held sometime in August."
After the Senior Championships, a development meet will be held at the GDF ground on February 9.
"The week after that we have the Midas King Cross Country in the National Park with three different age categories running in three distances on the 16th of February."
Asked about other events, the AAG head said  that many of the events are tentative such as the Courts and Ainlim 10Km road races but promised that history will be made when Wartsilla Inc. sponsors a half marathon in March that will see athletes pocketing a record $4M in prize money.
Said Hutson: "Wartsilla is on board from this year. They will sponsor a half marathon on March 2 and that will attract the highest prize money ever in Guyana.
"Wartsilla is throwing in excess of $4M into that race in order to attract international athletes to come here and compete."
Some local and international meets not included on the calendar so far include, the Independence Half Marathon, the South American Youth Championships, the South American Under-23, World Athletic Day and the South American Games.
During the sit down with Stabroek Sport, Hutson also said: "It is going to be a year full of competition and we will let the athletes know that this is basically constant evaluation because unless you have competition you can never be tested are see where you are progressing."
The official list of calendar events is scheduled to be released this weekend.
He also revealed that three clubs were added to the AAG at their AGM on Sunday. The clubs are West End Athletics Club, Region Nine Athletics Club and the Christianburg/Wismar Secondary School Athletics Club. (Emmerson Campbell)
Comments

NEW DELHI, India, CMC Superstar Chris Gayle headlines several top-tier West Indies players who will join over 1 000 players in the highly anticipated Indian Premier League auction scheduled for month end.

BELFAST, Ireland, CMC Two-time former 50-overs champions West Indies maybe the highest seeded side in the ICC World Cup qualifiers but they hold no terrors for minnows Ireland.

With only one day remaining for the registration process of the Guinness Greatest of the Streets West Demerara/East Bank Demerara zone, approximately 24 teams have submitted their participation forms for the qualifying stages.

Coach of the already crowned champions of the 2017/18 edition of Cricket West Indies Regional four-day first-class championships, Esaun Crandon, has suggested that there will be little tinkering to the squad set to take on the Trinidad and Tobago Red Force in their final round match, which begins at the Guyana National Stadium tomorrow.

Cricket action in the City is set to take shape January 27 as the Georgetown Cricket Association (GCA) aims to conclude a number of tournaments that would have rolled over from 2017.