International Federation of Bodybuilding & Fitness (IFBB) Professional, Jeff Beckham, will be the guest poser of the fourth edition of the Malta Supreme Hugh Ross Classic (HRC).
The confirmation was announced recently by the HRC'S organizing committee.
Beckham, the 6-foot, 1 inch, 215-pound mass of striated muscle has a reputation as a crowd pleaser and will definitely put on a show to the patrons when they throng the National Cultural Centre on March 29.
HRC's Chairman, renowned Guyanese and International bodybuilder, Hugh Ross stated that the 32-year-old Beckham was a Musclemania Pro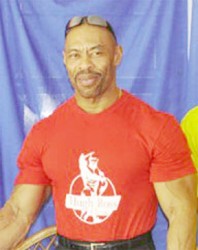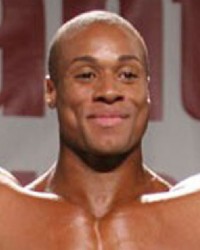 and the two would have competed in the past.
"What we at the HRC are looking at is someone who is a phenomenal athlete and who we believe will do more than just appear on stage come the night of March 29," said Ross.
"We are aiming to have Jeff here in Guyana a few days before the competition to interact with our athletes and to do some other things we will be tying up shortly."
Fans and followers of the sport will be in for a treat according to Ross since Beckham is excited to make his debut trip to these shores.
"I can assure all that Jeff Beckham will be here not only to wow the crowd but he is also a very friendly and people's person."
Interaction with local athletes who will be competing has been going well according to athlete's coordinator Lee Baptiste.
"A number of forms would have been distributed to date and the response has been very encouraging. We are scheduled to pay a visit to Berbice this Saturday. We've met athletes in the city already and the interaction would be ongoing. We are also on the pulse with regards to Linden."
Other areas including West Demerara, Baptiste disclosed will be visited shortly as they seek to maximize participation at the Classic.
There would be three female categories of competition – Female Bodybuilding which will target athletes who are of a more muscular body type; Miss Figure which will be for athletes who are symmetrical and toned and the Miss Bikini contest will be for the softer and more feminine eye pleasing type of figure.
The male categories are, Bantamweight – up to 65kgs (143lbs), Lightweight – up to 70kgs (144-154lbs), Welterweight – up to 75kgs (155-165lbs), Light Middleweight – up to 80kgs (166-176lbs), Heavyweight (176 and over). The respective category winners will then compete in the overall when the winner will be crowned Mr. HRC 2014.
Comments

A resurgent Guyana Amazon Warriors side completed a comprehensive seven wickets victory over the out-of-sorts St Lucia Stars to cruise to their second consecutive home win in the Caribbean Premier League (CPL) at the Guyana National Stadium, Providence, last evening.

BARCELONA,  (Reuters) – Barcelona are suing Neymar for 8.5 million euros ($10.00 million) for breach of contract as they want him to return the bonus he was paid when he signed a new five-year deal just nine months before joining Paris St Germain, the Spanish club said yesterday.
(Reuters) – Cristiano Ronaldo will have to serve his five-match ban for pushing a referee after the Spanish sports court (TAD) rejected Real Madrid's appeal against the length of the suspension, Spanish media reported yesterday citing court officials.

A 90th+3 minute strike secured Western Tigers a 1-1 draw with Georgetown Football Club (GFC), when the Corona Beer Invitational Football Championship continued on Monday at the GFC ground, Bourda.

Despite concluding the CONCACAF u15 Boys Championship with only one victory from four matches, Guyana Football Federation (GFF) President Wayne Forde said, he is delighted with the team's overall performance.