East Bank Football Association (EBFA) President Wayne Francois says that he will be seeking re-election at the entity's upcoming Annual General Meeting (AGM), slated to be held on February 16 at the Grove Community Centre.
In an exclusive interview via telephone, Francois stated: "One of the reasons is because I love doing what I do and I got the support of my constituents. I have the support from the general council and they are asking me to run back for re-election."
He added: "These are the people that got me involved and I displayed the democratic and transparent way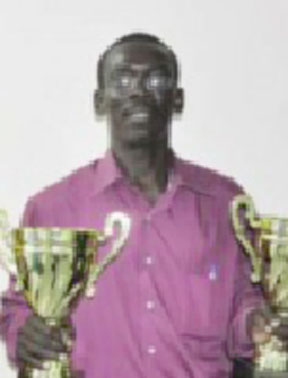 of running the organization. We had some setbacks in terms of not getting the 2012/2013 league run off but in the interim, we had a lot of knockout tournaments."
Questioned as to the reasons he should be re-elected for his third term, Francois said: "I am committed to the development of football on the East Bank and Guyana through the GFF. I think that the leaders of the General Council recognize my competence and they have acknowledged me for election."
Asked what will be the emphasis if re-elected, Francois said: "My focus will be on youth development through the clubs, facility enhance as well as the training of coaches and referees. They will also be training of leaders so that they manage their clubs properly.
"We also recognize the more football that is played the better equipped the players will be in time. They will get more experience so that they can compete with the other associations when it comes to the GFF programs," said Francois.
He further noted: "We will be pursuing facility development to enhance our playing area through the Ministry of Culture Youth and Sport and all the NDCs on the East Bank. We are working closely with them so that all the areas and clubs can have their own playing area".
Questioned if any other individual has signaled their intention to run for the top post, Francois noted "Not at present, from the last general council standpoint we didn't get that feedback. 90 per cent of the general council members are looking forward for me to be re-elected."
According to EBFA boss: "Whoever that coming to run against me I hope they have the game and football development at heart. I hope they are not coming for the picture moments, I hope they are coming to do the hard work. As the president, its hard work and commitment to the people and the sport."
He continued: "It's not a showpiece, it's a dedicated thing. Before I was the president I was mostly doing grassroots work in different communities. In my experience over the years, I realize that people come for the picture moment and after that they are a no show. I just hope that whoever comes is here for the right reasons."
The positions that will be contested at the upcoming AGM are President, Vice President, Treasurer, Assistant Secretary/ Treasurer, Organizing Secretary and Public Relations Officer. The General Secretary position is an appointed position.
Comments

Guyana Amazon Warriors left a packed house heartbroken after folding to the Jamaican Tallawahs by two runs in a thrilling final over, as they began their home leg of this year's Caribbean Premier league (CPL) with a school boyish display, last evening at the Guyana National Stadium, Providence.

DUBAI, England, CMC – Reigning champions West Indies Under-19s will be part of history, when they kick off their title defence of the ICC Youth World Cup (YWC) against hosts New Zealand Under-19s.

Guyana ended their Group-F campaign in the CONCACAF Boys U15 Championship on a winning note, edging St.

BIRMINGHAM, England, CMC – A day that started brightly ended in typical uncertainty for West Indies, after Alastair Cook and Joe Root plundered hundreds to give England an early hold on the historic first Test on Thursday.
BASSETERRE, St. Kitts, CMC – A strong all-round performance from Javeor Royal propelled Jamaica Under-19s to a four-wicket victory over ICC Americas Under-19s in the Regional One-day youth tournament on Thursday.