PORT-OF-SPAIN, Trinidad, CMC – Veerasammy Permaul prized out three crucial wickets in a final spell that earned Guyana a thrilling 22-run win over theWindward Islands and a place in the semi-final of the NAGICO Super50 cricket tournament at the Queen's Park Oval here  last evening.
The left arm orthodox bowler narrowly missed a hat trick but took the last three Windwards wickets at a cost of 24 runs as they capitulated to 213 all out off 46.4 overs after Guyana, winning the toss and batting amassed 235 for seven off their 50 overs.
Ronsford Beaton who had the important scalps of  Devon Smith,  Romel Currency and  Mervin Mathew finished with three for 43 and Davindra Bishoo  claimed two for 42 off 10 overs.
Beaton made the initial strike bowling the experienced Devon Smith for five and Christopher Barnwell blunted the Windwards advance accounting for top scorerJohnson Charles. The pugnacious opener was starting to dominate the Guyanese attack but needlessly charged the Guyanese captain having faced 36 balls and striking five boundaries in a knock of 35.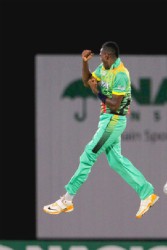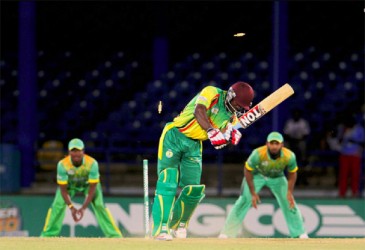 Romel Currency and Keddy Lesporis later staged an inspiring stand of 61 for the fifth wicket which swung the game's momentum back Windwards' way. Lesporis struck 33 and  Currency hit 19 before playing on to Beaton. Mervin Mathew and Liam Sebastien momentarily kept the  Windwards hopes alive but it all faded when  Matthew slapped Beaton to Permaul at backward  point for a fighting 24.
Guyana had earlier won the toss and batted.  Their innings  revived from a  sluggish start to post a total of 235 for seven. Ramnaresh Sarwan, dropped  behind the wicketbefore he had scored, took full advantage to hit a crucial  62  off 92 balls with six fours. Assad Fudadin, who faced a painstaking 92 balls in scoring 51 with five boundaries and a six  helped Sarwan put on  an important  121 for the second wicket.
Christopher Barnwell and Leon Johnson stepped up the scoring rate for Guyana putting on 84 for the  fourth wicket with  Barnwell slamming 51 off 43 deliveriesincluding  four fours and two sixes and Johnson stroked three delightful boundaries and clobbered  two sixes off 31 balls.
Mervin Mathew was again the pick of the Windwards bowlers taking four wickets for 41 runs . Delorn Johnson who was the unfortunate bowler when Sarwan was let off by Andre Fletcher had to settle with two wickets  for 39 runs off his 10 over spell. The Windwards were sloppy in the field grassing no less than four catches.
The victory by the Guyanese took them safely into the semi-finals of the competition moving up to nine  points in their group, level with Jamaica, the other semi-final qualifier.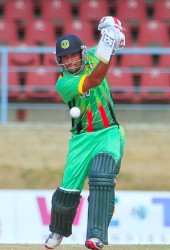 Scoreboard
Guyana innings 235-7 (50-.0 overs)
Trevon Griffith c+ Fletcher b Johnson                      0
Assad Fudadin  c  Johnson  b  Mathew                      51
Ramnaresh Sarwan c Sebastien b Mathew              62
Christopher Barnwell * b Mathew                               51
Leon Johnson  c  Currency b Charles                        41
Narsingh Deonarine  c  Sebastien b  Johnson           2
Anthony  Bramble+  c  Lesporis b Mathew               6
Veerasammy Permaul  not out                                      1
Extras: (b 2, lb 4, w 14, nb 1)                                        21
Total (7 wkts; 50.0 overs)                                          235
Did not bat: Davindra Bishoo, Ronsford Beaton, Paul Wintz.
Fall of wickets: 1-3, 2-124, 3-130, 4-214, 5-218, 6-234, 7-235.
Bowling: Delorn Johnson 10-1-39-2 (3w), Kenroy Peters  10-1-37-0 (3w), Mervin Mathew 10-1-41-4 (1nb), Johnson Charles 7-1-39-1 (1w), Liam Sebastien 9-1-50-0 (2w), Garey Mathurin 4-0-23-0 (1w)
Windward Islands innings:213 all out (46.4 overs)
Devon Smith    b   Beaton                                      5
Johnson Charles  b  Barnwell                            35
Tyrone Theophile  lbw  Bishoo                      31
Andre Fletcher+  lbw  Bishoo                          17
Keddy Lesporis    lbw  Wintz                            33
Romel Currency   b  Beaton                            19.
Liam Sebastien * lbw Permaul                      19
Mervin Mathew  c Permaul  b  Beaton      24
Garey Mathurin   b   Permaul                        5
Delorn Johnson   b  Permaul                        0
Kenroy Peters  not out                                  3
Extras: (lb 11 w11)                                             22
Total (10 wkts; 46.4 overs)                       213
Fall of wickets 1-35, 2-55, 3-95, 4-96, 5-157, 6-158, 7-200, 8-206,, 9-206, 10-213
Bowling: Paul Wintz 5-0-29-1 (1w) , Ronsford Beaton 9-1-43-3 (6w), Christopher Barnwell 6-0-31-1 (1w), Veerasammy Permaul 9.4-2-24-3 (1w), Davendra Bishoo 10-0-42-2 (2w), Narsingh Deonarine 7-0-33-0
Result: Guyana won by 22 runs
Umpires: G. O. Brathwaite   P. A. Gustard
TV umpire: D. Ramdhanie
Match referee: K. Kowlessa
Comments

BIRMINGHAM, England, CMC – Rain halted a promising West Indies fightback after opener Alistair Cook struck his third career double hundred, to put England in command of the day/night opening Test at Edgbaston here Friday.

GROS ISLET, St Lucia, CMC – Darren Sammy has been sacked as captain of St Lucia Stars, paying the price for the franchise's woeful start to the Caribbean Premier League.
Pacesetters crushed Knights 131-59 in their Open Divisional fixture, when the Georgetown Amateur Basketball Association (GABA) League Championship continued on Thursday, at the Burnham Court at Carmichael and Middle streets.
Rising Stars continued their unbeaten run in the Bartica Zone of the NAMILCO under-17 League, trouncing Strikers by a 4-0 scoreline on Thursday, at the Bartica Secondary School ground.

The Guyana Amazon Warriors will take on top of the table Trinbago Knightriders in a must-win encounter today, in front of an anticipated capacity crowd, following their crushing loss to the Jamaica Tallawahs on Thursday night at the Guyana National Stadium, Providence.